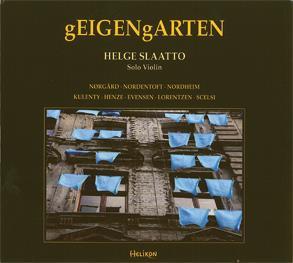 The Strad Issue: January 2012
Description: A welcome collection for solo violin let down by a sense of detachment
Musicians: Helge Slaatto (violin)
Composer: Nørgård, Nordentoft, Nordheim, Kulenty, Henze, Evensen, Lorentzen & Scelsi
Norwegian violinist and contemporary-music specialist Helge Slaatto's disc focuses on 20th-century Scandinavian music for solo violin, with pieces from a few other countries thrown in for good measure, and there's a pleasing diversity of styles and material. Arne Nordheim's Partita für Paul uses digital delay effects to build up multilayered textures from the single instrument, reflecting artist Paul Klee's layering techniques, and Slaatto's slithering glissandos and noble, well-phrased melodies combine together in an impressive performance.
But there's a certain sense of detachment from the music, and a lack of sparkle that's also evident in Hannah Kulenty's Still Life with Violin, where Slaatto doesn't really deliver the piece's driving repetitions with the passion that they surely deserve. Henze's Sonata for solo violin uses a collage technique, with varied styles – drunken double-stops, stratospheric pyrotechnics, sorrowful melodies – rubbing up against each other. Yet Slaatto opts to iron out the stylistic differences, resulting in a rather samey-sounding performance.
He's best, though, in the more introspective pieces, showing off his superb tonal control in Bent Kasberg Evensen's poignant In memoriam, and excelling in the single-note obsessions of Bernt Lorentzen's brittle Quartz, where his subtle pitch fluctuations and expertly judged pacing bring the music to vivid life.
Recorded sound is very close and picks up a lot of breathing and other noises, which is sometimes distracting but also adds to the immediacy of the interpretations.



David Kettle