An article from The Strad, 1935, pays credit to pioneering violinist Marie Wilson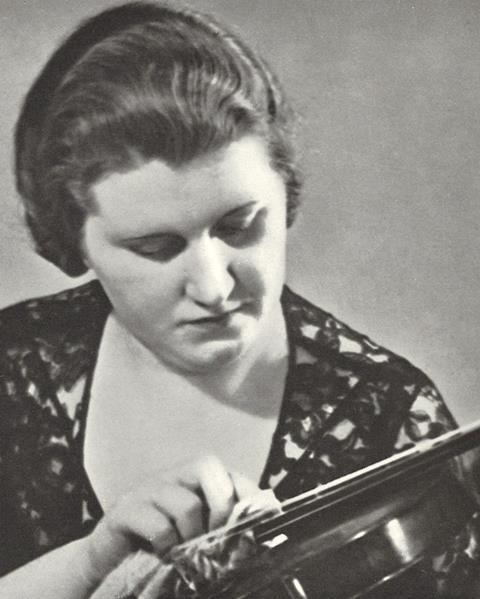 Sir Henry Wood in an article which he contributed to a daily paper recently wrote: "…a man is put on his mettle by the presence of a woman colleague. He may not admit it, he may not even believe it possible, yet it is so. It is something very subtle and fine, that feeling of artistic rivalry stimulated in men by the presence of women playing exactly the music they are playing themselves."
The above quotation serves as an admirable introduction to the subject of our plate this month – Marie Wilson – whose playing as leader of the Promenade Concerts last year, during the absence of Charles Woodhouse through illness, brought her a large measure of well-deserved praise and a through the resulting publicity a fame unknown to the majority of artists who devote their time to orchestral work and thus lose their identity as individual artists to the outside world.
Marie Wilson was born in Epping Forest in 1903, and has played the violin since she was four, making her first public appearance before she reached her sixth birthday. Up to the age of fifteen she was a pupil of her father, a professional violinist. She then entered the Royal College of Music, Maurice Sons being her professor of violin. Her career at the College was a brilliant one. She was awarded an open Scholarship for three years, then the Gowland Harrison, Morley and Honorary Scholarships and the Tagore Gold Medal for the most distinguished student of the year. Subsequently she gained the A.R.C.M.
Miss Wilson was a member of the old Queen's Hall Orchestra, under Sir Henry Wood, whilst still a student at the Royal College and held the position for three years before leaving to devote herself to solo work.
As a soloist she fulfilled a number of engagements at various Municipal Converts and the leading Festivals, including Norwich and Petersfield and the Oxford Subscription Concerts. There were also appearances at the Promenade Concerts as soloists – last year she played the violin solo in Strauss's "A Hero's Life" and is the first woman to do so – this fine work making the highest demand upon the soloist. A recital at the Wigmore Hall also gained very favourable notices and established her reputation as one of our leading violinists.
Marie Wilson's first appearance "on the air" was when she played the Brahms Concerto with the old wireless orchestra at Savoy Hill in the very early days of broadcasting. This initial performance was so successful that a number of engagement s followed with the various broadcasting stations up and down the country and included an invitation to play from the Belfast Station.
Miss Wilson is very devoted to chamber music and in the days before she joined the B.B.C. orchestra had founded and led the string quartet which bore her name. This organisation did considerable meritorious work playing at schools, subscription concerts and for various musical societies. It had to be disbanded when Miss Wilson entered the present B.B.C. orchestra on its foundation some five years ago.
As previously mentioned Miss Wilson led this orchestra at Promenade Concerts for the greater part of last season. This was not her first experience of this responsible position, however, as she had deputised for the leader for a week two years previously. For any violinist, whether man or woman, to attain this position whilst still in the very early thirties is surely an unique honour, and the capable manner in which miss Wilson carried out her difficult task has won her praise on all sides and must have done a great deal to remove whatever prejudice there may still exist against the presence of women in our leading orchestras.
Throughout this notice Marie Wilson has been referred to as "Miss" for as is the case of so many successful professional women she, very sensibly, prefers to be known publicly by the name she has made so widely known principally through her wireless work. Marie Wilson is married to Henry Bronkhurst, one of the B.B.C.'s solo pianists and of the Bronkhurst Trio which so often broadcasts. They met when both were students at the Royal College of Music.
A lady with so many calls on her time could be forgiven if she disclaimed any hobbies other than "resting," but Miss Wilson owns to three – swimming, reading and music.
---
Subscribe to The Strad or download our digital edition as part of a 30-day free trial.