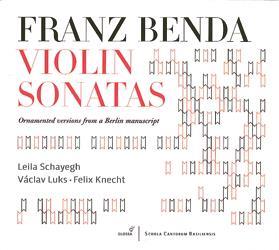 The Strad Issue: January 2012
Description: Nuanced performances of 18th-century sonatas with original ornamentation
Musicians: Leila Schayegh (violin) Felix Knecht (cello) Václav Luks (harpsichord/fortepiano)
Composer: Franz Benda
These sonatas by Franz Benda were selected from manuscripts preserved in Berlin's Staatsbibliothek which include annotated ornamentation for all movements, in some cases offering two ornamented versions on separate staves. Even if they are not in the composer's hand, their value as reliable sources for period performers is undisputed.
Leila Schayegh's playing has a magnetic quality and a spectrum of nuances that generate interpretations of subtlety, sensibility and radiance. Technically assured, she is nevertheless physically challenged by these works, judging from some instances of roughness in, for example, the unbuttoned cascades of scales and arpeggios in the outer movements of Sonata no.11. However, the focus and momentum she sustains in the symphonic opening Allegro of Sonata no.32 are commendable. She also dispatches most of the florid ornamentation with an affecting naturalness and musicality, particularly in the slow movements, in which she mirrors Benda's use of rubato and is always sensitive to the emotions of the piece. The slow movements of Sonatas nos.7 and 32 are especially beautifully interpreted.
Schayegh is supported by alert continuo partners in Václav Luks and Felix Knecht and, apart from some issues of continuo balance, is generally well served by a vivid, yet spacious and full recording.



ROBIN STOWELL