The Myaskovsky Cello Concerto remains a private pleasure for the US cellist, whose memories of Rostropovich remain an inspiration half a century later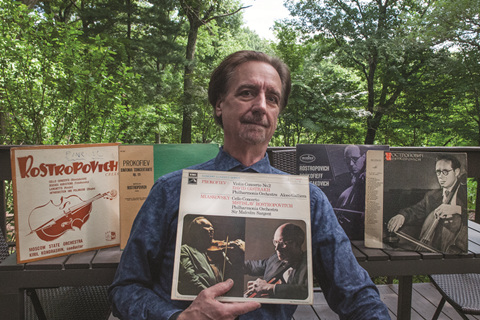 This article appeared in The Strad September 2018 issue
I've never performed the Cello Concerto by Nikolai Myaskovsky in public, but for me it's still one of the most important pieces in the repertoire. There's a stack of about 50 works I love to pull out and play over and over, just for myself, and if I don't feel like playing the cello I'll sit at the piano and play the orchestral reduction, feeling the harmonies under my fingers.
The Myaskovsky is a piece that really captures the soul of Russia; it was composed in 1944-45 during the darkest days of World War II, and although it's a sombre piece in C minor there's a feeling of hope that permeates the whole work. In just the fourth bar of the solo part, there's an A natural that's both surprising and beautiful – obviously it's not in the C minor key, and it becomes a transcendent moment, as if encapsulating the acceptance of Russian living conditions at the end of the war.
The concerto is littered with those moments, so it gives an impression of the sun shining through clouds. Every time I play it I have this haunting, mesmerising experience, and it really needs to be heard by more people.
Listening to the concerto also takes me back to my experience studying with Mstislav Rostropovich. I was his first American student, and I'd been listening to his recordings since I was twelve years old. The heights of expression he reaches in his 1959 live recording of the Myaskovsky, with the Philadelphia Orchestra under Malcolm Sargent, are unequalled in my opinion.
They were hugely influential for me, and implanted a standard of expression that remains my ultimate goal. Until you recognise a great performance, you're not going to find it in your own playing. I think I still play the cello with an 'accent' of Slava – I improved my technique just so I could make the sounds I heard on those records. This became a stronger impulse when I began working with him; I daresay that students often try to imitate their tutors, especially if they respect them as highly as I did.
'My Rostropovich recordings implanted in me a standard of expression that remains my ultimate goal'
Having said that, other artists have performed the Cello Concerto in a unique way that I love as well. Just the other day I found a video of Natalia Gutman playing it in the Moscow Conservatory's Great Hall. The power with which she played it was breathtakingly beautiful – I was hooked from start to finish.
One thing about studying with Rostropovich was that he was the link to the great Russian composers, Prokofiev and Shostakovich. Myaskovsky was also in that group: he was one of Prokofiev's oldest and closest friends, and was extraordinarily prolific. He wrote 27 symphonies, 13 quartets, 9 piano sonatas and numerous other works, and they were revolutionary at the time.
It's music that deserves to be heard, and I wish it was programmed more often by orchestras. If a student asked me for advice when practising the Cello Concerto, I'd always recommend they listen to a couple of the symphonies, the First Piano Sonata and the 1930 Quartet, all of which were hugely important to the Russian musical milieu.
The environment we create at the Music@Menlo festival is always one of 'extreme context': we look at where the music came from, what the composer was doing at the time, what their priorities were and so on. I've always found that it's a mistake only to listen to the work you're focused on, as you lose sight of the wider context.
INTERVIEW BY CHRISTIAN LLOYD
Watch: David Finckel tells a story from a Rostropovich class that made a lasting impression on him