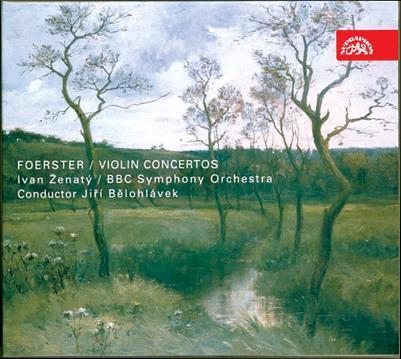 The Strad Issue: January 2008
Musicians: Ivan Ženatý (violin) BBC Symphony Orchestra, Ji?í B?lohlávek (conductor)
Composer: Foerster
The two violin concertos of Josef Bohuslav Foerster (1859–1951) are quite different affairs, the first dramatic and colourful, the second severe and intense, and occupying a more unsettled harmonic world. Both are in good hands here. Ivan Ženatý plays with the kind of rich, warm sound familiar from his great teacher Josef Suk.
The First Concerto, dating from 1910–11, is cousin to Foerster's opera The Unvanquished, and often has the feeling a tale being told. Ženatý conjures the many colours and characters within it with the authority of a master storyteller. He is splendid in the dramatic, declamatory opening movement, slipping smoothly from stern rhetoric to discursive musing, and in his own cadenza, which nicely captures the concerns of the movement, he is by turns severe, contemplative and capricious. After the passionate monologue of the short slow movement Ženatý brings wit and lightness to the finale, over which the spirit of Wieniawski's high-spirited miniatures seems sometimes close at hand.
The Second Concerto, conceived eight years later but not completed until 1926, is an intense, restless work, its colours muted and introspective. The solo writing, much more integrated into the orchestral textures, is a perpetual, sinuous cantilena full of shifting emotions, in which Ženatý's playing is masterly in its eloquence. This is not a showpiece, but with its complex emotional requirements it is arguably harder to perform effectively than many a more technically flamboyant work. Even the sparkling jollities of its finale tend to lapse into uncertainty. ?Zenat´y is superb, and admirably partnered by the BBC Symphony Orchestra and Ji?í B?lohlávek. The recorded sound is warm.
Tim Homfray