French composer Jérôme Combier and cellist Eric-Maria Couturier take a solo journey into the underworld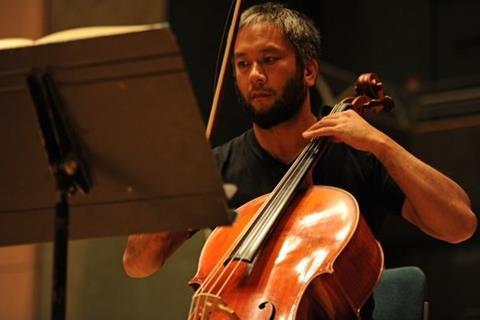 Extended techniques: Ensemble Intercontemporain cellist Eric-Maria Couturier
COMPOSER Jérôme Combier
WORK Wood and Bones
ARTIST Eric-Maria Couturier
DATE 15 February
PLACE Maison de la Radio, Paris
'I wanted to create the music of an unknown ritual,' says French composer Jérôme Combier. 'There's no "human" voice in Wood and Bones. It has disappeared, along with the melody, and been replaced with obstinate pulsations and improbable timbres. The wood summons the spirits, and the bones keep fate at bay.' Combier is describing his new work for solo cello, which this month will receive its first performance, by Ensemble Intercontemporain cellist Eric-Maria Couturier as part of Paris's Présences festival of contemporary music.
'In my music I like to explore gentle, elusive sounds as well as energetic gestures that capture the virtuosity of the musician,' Combier explains. 'Wood and Bones has more to do with the latter, but its two high-energy outer movements are separated by some more restrained music that explores the sounds of the open strings and their harmonics in one long sentence.' By instructing Couturier to tune his instrument's G and D strings down by a semitone each, Combier transforms the range of available natural harmonics and the harmonies they are able to create.
'Filled with details of exactly where on the instrument and with what means each sound is to be produced, Combier's score is clearly influenced by composers such as Helmut Lachenmann, preoccupied with the physicality of the instrument and its performer. 'There's nowhere to hide when you're writing a solo piece,' says Combier. 'You're alone with the technical limitations and possibilities. That can be a good thing, though, and writing for the cello, I found a wealth of extended techniques to explore. I would take sketches to Eric-Maria and we would discuss how the gestures I wanted might work on the instrument, and how best to notate them. I was very grateful for his insights – he is an incredible musician who knew straight away how to transform my ideas into music.'
The article is published in The Strad February 2020 issue. Click here to view the issue. Download the issue on desktop computer or through The Strad App.