Ross Snyder, first violin for the Tesla Quartet, offers encouragement and a practical primer on incorporating new music into your chamber repertoire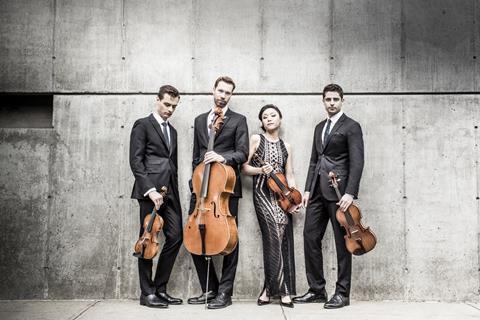 Start close to home…
For young quartets looking to explore contemporary repertoire, the best place to start is your own musical circle. If you have friends who are composers, look for opportunities to perform their music. Young composers are keen to have their works performed, and they may also be eager to write new music for you. Building these relationships early on means you could have a lifetime of creative collaborations.
You will also have a chance to work directly with the composer to learn what their intentions are for their music, and how your ensemble's personality can add to that vision. In the Tesla Quartet we've always found that our artistry as an ensemble grows when we work with the composer. For instance, we worked with violist and composer Garth Knox on his quartet Satellites last year and learned a great deal from him about the unique pizzicato and bowing techniques he incorporates into his music.
…or look far afield
If you're looking to broaden your horizons, the Kronos Quartet's '50 for the Future' commissioning project is a great resource for string quartets written within the last few years, and all of the scores are available to download for free! This catalogue contains works of varying degrees of difficulty, so groups of any age and level of ability can immerse themselves in these imaginative and intriguing pieces.
Perhaps the collection's greatest strength is the cultural diversity of all of the represented composers. Though the foundations of our training as string players are rooted in the traditions of the past, we are now global citizens who are not beholden to the music of old dead white men (as undeniably great as that music still is). The contemporary repertoire affords us the privilege of exploring rich cultures aside from our own.
Don't jump in cold – study the score
Once you have chosen a quartet to learn, the first step is to spend some quality time with the score. Before you even put your instrument under your chin (or in your lap), read through the score carefully to get a scope of the layout of the piece. It's important to figure out the structure of the music. It likely won't be sonata form, so you'll need to figure out how the music develops, where it goes, how many sections there are and how those sections relate.
Is it a single arc from beginning to end? Does the music develop out of a single motive or idea, or are there contrasting episodes of distinctive musical textures? Is there a strong sense of rhythm or groove, or is it more atmospheric and timeless? Is it emotional or intellectual? There could be any number of these elements in the music, so it is important to know how to frame your work by knowing what you want to achieve.
When I begin practising my part before the first rehearsal (yes, please don't sightread your part at the first rehearsal; you won't be doing your colleagues any favours there), I like to read off the score so I can see how my part interacts with the other voices. I like to know if I'm paired with another voice rhythmically or melodically, or if there are intricate rhythmic relationships between my voice and another.
Be methodical, be patient, have fun
When you finally start working on the music in the group, try first to play through the whole piece together, if it's not too technically complicated. Often for extremely technically demanding repertoire – like Matthias Pintscher's Fourth String Quartet, where there are literally five different symbols or written directions for each note – there's nothing to be done but to work up a few sections independently and then string them together.
Once the whole group has a sense for the scope of the piece, identify which sections or passages might need the most attention. It can be helpful to break up the work into different categories to keep the rehearsal process fresh. You might spend 30 minutes working on intonation in a few passages, and then switch gears and work for 30 minutes on another section with the metronome to ground your feeling of the pulse and tighten your rhythm.
If there are particular techniques that are new to you, like 'helicopter bowing' or multiphonics, spend some time trying them out together. It may take a few rehearsals for new concepts to gel, so just be patient and enjoy the experimentation!
Be accurate – but also look out for beauty
Also, remember that 'modern' music can still sound beautiful. Some contemporary repertoire does call for an acerbic tone or gritty playing, but even an untrained ear can tell the difference between a properly executed scratch tone and careless bow technique. The vocabulary of contemporary techniques is vast, and if you want to get the most out of the music you'll have to make a sincere effort to master the language.
For instance, in microtonal music, there is a real difference between an eighth tone and a quarter tone. They're not just slightly out of tune half steps; they're true intervals just like a major third or a minor seventh. Some of the most beautiful harmonies in the Pintscher are a mixture of diatonic and microtonal intervals. Be sure to spend time figuring out exactly how these intervals should sound, and eventually you'll be able to execute them on the fly.
Some dissonant harmonies are meant to sound painful or jarring, but often it's the intervals themselves that create that character, so take care not to make a rough sound unless that's the composer's intention. If the character of the music is aggressive and strident, then by all means, lay into it! But there is also a lot of beauty to be found in contemporary music, and you don't have to look hard to find it.
Enjoy your newfound freedom
Ultimately, you should allow yourselves to be creative and imaginative as you bring these new works to life. Every composer has a unique voice, and this is your opportunity to embrace your artistry in creating something new and vibrant without the burden of 200 years of tradition.
Who knows? Maybe you'll even find that same feeling of freedom when you return to Beethoven. Don't forget: his music was new music once, too.
The Tesla Quartet performs the European premiere of John Woolrich's Badinerie (from A Book of Inventions) at Snape Maltings' Britten Weekend on Friday 19 October
Its debut album of Haydn, Ravel, and Stravinsky was released on Orchid Classics on 7 September