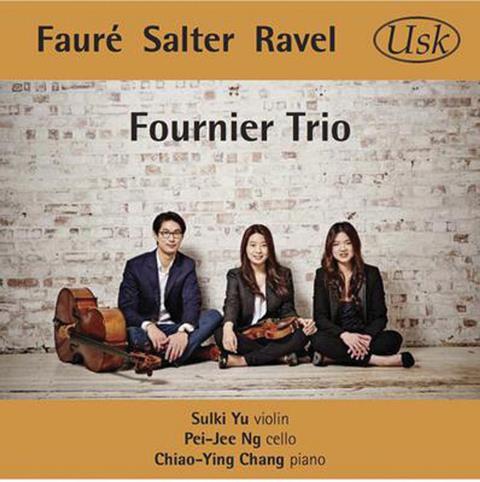 The Strad Issue: October 2015
Description: French piano trios illuminated by a British contemporary work
Musicians: Fournier Trio
Composer: Fauré, Salter, Ravel
Despite being teacher and pupil, Fauré and Ravel came up with very different ways of approaching the medium of the piano trio. Put a vigorously contemporary work between them and the contrast seems even more marked. The 1987 Piano Trio by Timothy Salter, founder and owner of Usk Recordings, broadly contrasts the lyricism of the strings with the percussiveness of the piano, and the young musicians of the Fournier Trio respond with playing that is both finely wrought and passionately engaged.
The recording of the Salter, which was made in a hall named in honour of another great cellist, the Jacqueline du Pré Hall at St Hilda's College, Oxford, is better balanced than that for the two French works, which were recorded in an Oxford church and tend to give violinist Sulki Yu a more backward placement. Nonetheless, the long-drawn songfulness of Fauré's lines is amply projected, even if Pei-Jee Ng's cello seems to dominate the textures, and Chiao-Ying Chang's piano playing is warm yet crystalline.
Ravel's miraculous marriage of melody, rhythm and texture is also commandingly conveyed, with the players fully attuned to the Trio's ebb and flow, and their tone colour adapts seamlessly for both the fire and the languor of the composer's inspiration.
MATTHEW RYE