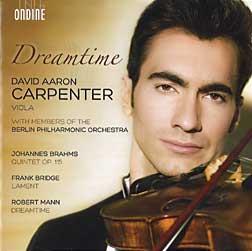 The Strad Issue: January 2014
Description: A star violist collaborates with members of a great orchestra with winning results
Musicians: Bernhard Hartog, Rüdiger Liebermann (violin) David Aaron Carpenter, Walter Küssner (viola) Stephan Koncz (cello)
Composer: Brahms, Bridge, Mann
As opposed to his op.120 sonatas, Brahms left the clarinet part of the Quintet op.115 (and of the Trio op.114) unchanged when preparing a viola version, making it a very arduous piece indeed on the new instrument. Typical clarinet figurations like the 'gypsy' arpeggios of the slow movement don't necessarily sit comfortably on the viola, which is also required to sing out sweetly at the top of its register. Not that any of this worries David Aaron Carpenter, who plays with admirable aplomb and secure intonation while fitting perfectly into the ensemble as primus inter pares. Without the clarinet timbre as part of the equation, the piece needs a different voicing of its various parts, which it most convincingly receives here, with these Berlin Philharmonic Orchestra players and their guest audibly inspiring each other. Carpenter's alto tone contrasts beautifully with the dark tenor of Walter Küssner in a most eloquent rendition of Frank Bridge's Lament. (Poor Paul Hindmarsh, who edited Bridge's sketches for publication, gets mistaken yet again with Paul Hindemith in the booklet notes.) The 'title track' by the Juilliard Quartet's long-time leader Robert Mann – who was one of Carpenter's mentors – is of course wonderfully tailored for the viola and makes for an agreeable envoi. Whether live in Berlin's Kammermusiksaal or in a Yonkers studio, the recording quality is lifelike and faithful to Carpenter's addictively beautiful sound.
Carlos María Solare