Joshua Bell performed and directed Tchaikovsky's Violin Concerto with the Academy of St Martin in the Fields this week with great success. Could this spark a new trend in concerto performance, asks Charlotte Smith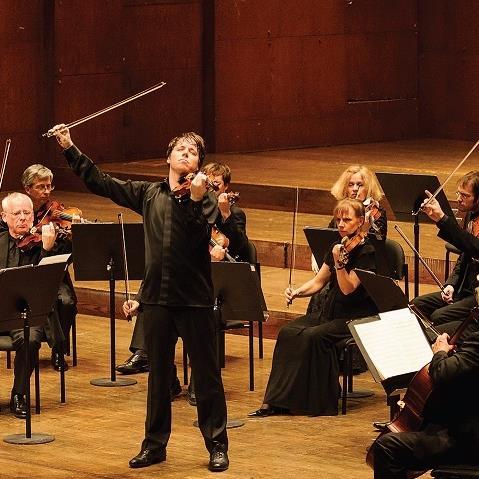 This week Joshua Bell joined the Academy of St Martin in the Fields for a performance of Tchaikovsky's Violin Concerto at London's Barbican. You might think there can be few new avenues left to explore in this much-loved work – especially for Bell, who has been playing the concerto since the age of 13. But in both directing and performing the piece, the star soloist managed to produce a highly individual interpretation.
In a particularly sprightly – some might say impatient – performance, the violinist and chamber orchestra transformed an often solidly Romantic behemoth into something light and even Classical in character. Spirited and exciting, Bell's lightening technique is still very much intact – and if the orchestral winds seemed sometimes to drag ever so slightly, the string section was always with the soloist.
The success of Bell's undertaking rather begs the question, do concerto performances need a conductor?
Yes, it is fairly common for Classical concertos by the likes of Mozart to be performed with chamber orchestra sans conductor – at this year's Joseph Joachim International Violin Competition Hannover, this was even a requirement of the Semi Final. But by taking on the formidable Tchaikovsky, Bell has pushed the practice into unexplored Romantic terrain.
Of course last year Vadim Repin performed Shostakovich's First Violin Concerto with full orchestra at the Trans-Siberian Arts Festival minus a conductor. But this dicey venture was only undertaken when scheduled conductor Valery Gergiev cancelled unexpectedly. Afterwards Repin commented, 'If our Novosibirsk Academic Symphony Orchestra was not the highest possible artistic level, I would have never taken that risk.'
Like Bell, who as director of the ASMF is intimately acquainted with their playing, Repin felt he knew the orchestra – and they him – adequately to take on the challenge.
And this is undoubtedly key. For great swathes of both the Tchaikovsky and the Shostakovich, the soloist is 'occupied' and cannot offer help or direction to the accompanying orchestra. In such ventures the responsibility lies therefore with the ensemble to match the soloist – rather than for the soloist to direct.
As orchestras compete to maintain audiences – taking on such experimental ventures as playing without scores for example – we can expect more exciting concerto performances of this type, especially in the chamber orchestra sphere. And while conductors will never be phased out completely, if orchestra and soloist are sufficiently familiar with each other, this can only be a good thing.
Read: Joshua Bell on performing and directing Tchaikovsky's Violin Concerto for the first time
Read: 'I often have to battle negative thoughts on stage,' says violinist Joshua Bell
Photo: Joshua Bell with the Academy of St Martin in the Fields © Ian Douglas