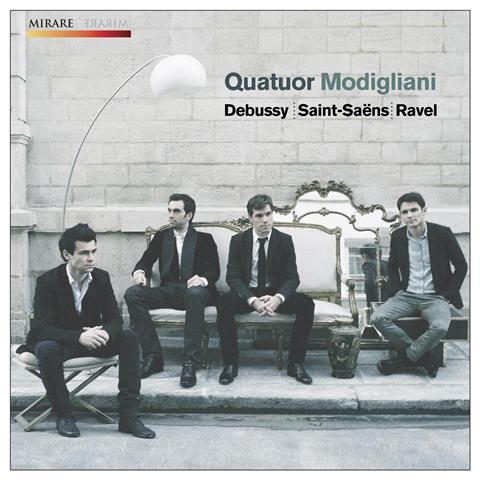 The Strad Issue: January 2013
Description: A welcome interloper freshens up a classic quartet coupling
Musicians: Modigliani Quartet
Composer: Debussy, Saint-Saëns, Ravel
Radiantly engineered and tonally beguiling, these are performances that generate pleasure simply because of the sound they make. Some ensembles audibly struggle to shift their textural emphasis from the central German tradition to the enhanced tonal palette of Debussy and (especially) Ravel, but the Modigliani players radiate an intoxicating allure and imbue (where appropriate) the music with a hazy amorphousness that is a triumph of expressive micro-management.
Underlying both scores is an emotional cool that sets up a tantalising ambiguity with their shimmering surface seductiveness, and here the players captivatingly underplay those moments – as witness the middle section of the Ravel's Assez vif second movement, where it is all too easy to adopt an all-purpose, dreamy espressivo. Dynamics are also handled with rare sensitivity: where the sound drops away almost to nothing it is raptly shaped like a heightened musical intake of breath.
Finest of all is an account of the elusive Saint-Saëns E minor Quartet that exchanges the frosty neo-Classical precision of some readings for an opulent, velvety sound world that refutes any notion of the French master's late music having run out of emotional steam. Occasionally the ensemble plays with an articulated interpretative pulse (almost like an expressive heartbeat) that has a slight tendency to disrupt the music's natural cantabile, but this hardly detracts from what is a considerable overall achievement.



JULIAN HAYLOCK