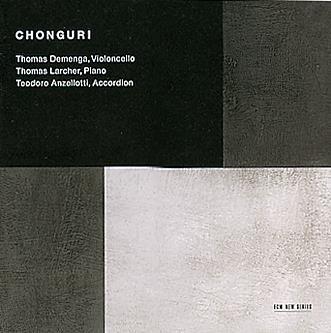 The Strad Issue: January 2013
Musicians: Thomas Demenga (cello) Thomas Larcher (piano) Teodoro Anzellotti (accordion)
Composer: Tsintsadze, Bach, Cassadó, Chopin, Webern, Fauré, Liszt, Milhaud & Demenga
In this exceptionally clear and warm recording, Thomas Demenga proves once again that he is a cellist adept at mixing the old with the new, and at placing chestnuts alongside less familiar fare. Among the new faces are two miniatures from his own pen, one serving as an amusing encore piece that he wrote while still a student at Juilliard – the honking New York traffic imitated amusingly on the cello. The other work, Eine kleine Erregung was inspired by Berg's Violin Concerto and weaves themes from this work into the textures along with a telling reference to Bach's chorale Es ist genug from the second movement of the Austrian composer's instrumental requiem. The most extended item, Liszt's compellingly elegiac La lugubre gondola, reinforces this preoccupation with death, as do three Bach chorales that punctuate the programme (here an accordion accompanying the cello creates a sound which strongly resembles a pedal organ).
But not all is gloom and doom. Demenga's programme also offers some irresistibly virtuosic showpieces, such as Cassadó's Danse du diable vert and Tsintsadze's Chonguri – a pizzicato tour de force that imitates a Georgian long-necked lute – alongside Fauré's enchanting Berceuse and Romance, and two transcriptions of Chopin nocturnes. All in all this carefully balanced and enormously varied collection of encores and smaller works is refreshingly free from any hint of self-regarding indulgence. More important, however, is the underlying musicianship that paints each item – in essence an astute ear for style and nuance within the phrase, be it tonal or atonal, linear or homophonic.
Joanne Talbot