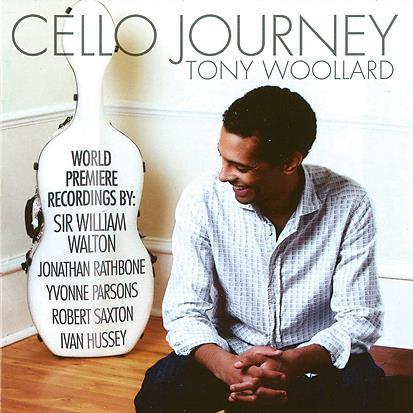 The Strad Issue: January 2010
Description: Cello Journey. Walton: Theme for a Prince. Hussey: Three Interludes. Parsons: Dove l'anima riposa. Rathbone: When all is said and done. Saxton: Sonata for solo cello. Holdsworth: Lost Time
Musicians: Tony Woollard (cello)
Composer: Walton, Hussey, Parsons, Rathbone, Saxton, Holdsworth
Tony Woollard should be strongly commended for sourcing new works and featuring five world-premiere recordings on this highly enterprising release. Indeed with eloquent performances captured in beautiful sound it ought to be a sure-fire winner. But the quality of the repertoire is patchy. The disc gets off to a distinctly disappointing start with William Walton's Theme for a Prince, written for the investiture of Prince Charles in 1970 and amounting to a pretty undistinguished affair. Walton's theme in fact serves as the starting point for Robert Saxton's Sonata for solo cello, a work that signals promise at the beginning of its Praeludium, but which despite Woollard's technical mastery of the challenging writing rapidly runs out of steam, offering little memorable music in its 16-minute duration.
The same problem unfortunately affects Jonathan Rathbone's When all is said and done, which is well crafted, but over-long and rather arid in expression. On the other hand, Yvonne Parsons's Dove l'anima riposa makes slightly more impact in presenting a greater variety of moods and textures, which are persuasively projected in this performance.
Easily the most direct material appears in Ivan Hussey's Interludes, which, alongside their more tonally orientated language, use tape loops and layering as an effective way of creating a richer cello timbre. Andrew Holdsworth's Lost Time is also very engaging: it's a haunting, melancholic melody performed with great sensitivity and which might have a wider appeal.


Joanne Talbot