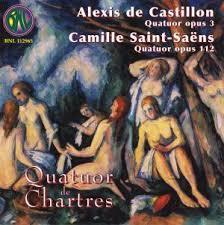 The Strad Issue: January 2013
Description: Mixed results in a pairing of rare French quartets
Musicians: Chartres Quartet
Composer: Castillon, Saint-Saëns
With the quartet captured at a discreet distance from the microphones in a generous acoustic (a room in the magnificent Chateau de Saint-Simon in Eure-et-Loire), the initial impression is of a small string orchestra playing rather than a string quartet. The ear quickly adjusts, however, especially in scores as richly opulent in spirit as these. The quartet by Alexis, Vicomte de Castillon (1838–73) is an early work that compensates for its less than organic structural sweep with string writing of considerable flair. The Chartres Quartet, still going strong after 29 years, plays it with an affectionate warmth and understanding that make a convincing case for its wider circulation, even if it is let down ultimately by a lack of truly memorable ideas.
The Saint-Saëns is, by comparison, a late work of some distinction, distilling the overt tunefulness of his earlier work into a Fauré-like sound world of tantalising, half-spoken gestures. It is also, in places, quite challenging to play – even when the notes start flying, the Frenchman's pristine textures cry out for Mozartian clarity, accuracy and precision. Here (particularly in the second-movement Molto allegro quasi presto and the finale) the Chartres players occasionally sound slightly under pressure with a resultant loss of intonational focus.
JULIAN HAYLOCK