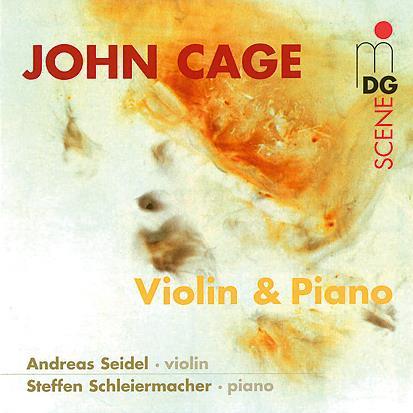 The Strad Issue: January 2010
Musicians: Andreas Seidel (violin) ?Steffen Schleiermacher (piano)
Composer: Cage
Despite his prolific output, there's little music by John Cage for violin and piano – perhaps, as pianist Steffen Schleiermacher suggests in his informative booklet notes, the composer was put off by the duo's associations with Romantic music. All four of Cage's violin-and-piano works are collected here, two from early in his career and two from near the end of his life, neatly sidestepping the composer's more chance-obsessed and philosophical middle?period.
Violinist Andreas Seidel gives honest, sincere and committed performances throughout, never overplaying Cage's sometimes enigmatic utterances, but letting the simple charm of the music speak for itself. The early Nocturne (1947) is almost Impressionist in its harmonies and textures, and Seidel delivers a graceful reading, treating the Romantic-sounding gestures with just the right amount of cool objectivity. The Six Melodies for Violin and Keyboard (1950) evoke a remarkable range of moods from a limited number of musical notes combined in ever-changing permutations, and Seidel's decidedly folksy sound is simple yet effective.
The two 'number' pieces – Two4 (1991) and Two6 (1992) – belong to Cage's late collection of works that set time frames in which musical events are to take place, yet dispense with coordination between performers. The Feldman-like results are fragile and cryptic, shot through with silence. Seidel delivers a remarkable range of tones, including slow glissandos on the G string in Two6 that sound like a distant siren. Cage aficionado Schleiermacher is a solid presence throughout, and recorded sound is warm and generous.



David Kettle