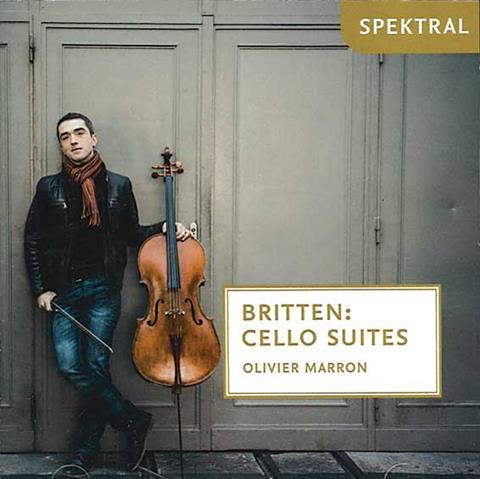 THE STRAD RECOMMENDS
The Strad Issue: February 2015
Description: Immaculate but eloquent recordings of Britten's solo cello suites
Musicians: Olivier Marron (cello)
Composer: Britten
It may well be true, as the composer David Matthews has suggested, that Britten's three cello suites are the most important solo cello music since Bach. There's no doubt, listening to this disc, that French cellist Olivier Marron is convinced of that. He avoids easy characterisation to lend colour or meaning: rather his self-effacing eloquence and finely tuned ear draw us into an absorbing world, a cleared space in which to experience these expressively multifarious works. Every harmonic, every pizzicato, every col legno tap seems deftly placed, the vibrant recording matching his direct and natural approach.
Marron's 'Canto primo' in the First Suite is pliable and spacious, the sound rich and woody but never pushed. Even the character-pieces, such as the hopscotchy Fuga and the plucked Serenata (in which his voicing is deftly executed), are seamlessly incorporated into a single arc spanning the suite's nine movements.
The same goes for the scherzo of the Suite no.2 – pungent but not out of place – which is followed by a haunting Andante lento where the balance between slithering, double-stopped melody/accompaniment and pizzicato commentary is expertly crafted. The suppleness of his Barcarola and Passacaglia in the Third Suite further marks out Marron as a compelling musician of probing insight and rare communicative gifts.
EDWARD BHESANIA