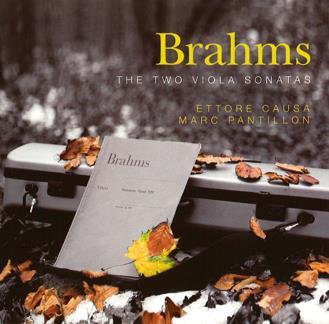 The Strad Issue: January 2008
Musicians: Ettore Causa (viola) Marc Pantillon (piano)
Composer: Brahms
Brahms's late compositions have often been described as 'autumnal'. In this latest recording of the viola sonatas, the music's 'mellow fruitfulness' is further remarked upon in the interpreters' comments, and in some evocative pictures in the booklet. Neapolitan Ettore Causa is an alumnus, and now a teacher, of the International Menuhin Music Academy in Switzerland. He was deservedly awarded the special prize 'for the most beautiful sound' at the Lionel Tertis Competition in 2000. Indeed, beauty of tone continues to be a characteristic of his playing, well aided by a new (2003) viola by Montpellier maker Frédéric Chaudière.
Causa's tone radiates a wonderful warmth even when high on the A string. He doesn't get up there more than is absolutely necessary, though, keeping to the 'official' viola adaptation that Brahms himself thought could be improved upon. Many phrases are transposed down from the clarinet original (violists in Brahms's day weren't necessarily expected to play in high positions), necessitating further changes to remain within the instrument's range, and often upsetting the interplay of solo and piano. Causa makes the most of this version, here and there adapting the articulation to suit the viola better.
The CD is rounded off with six Brahms songs, in which Causa plays the voice part without any additions, just changing octaves in repeated strophes. The Lieder make for a nice group, and so expressive is Causa's playing that I never missed the words. The recording quality is most truthful (even catching the odd page-turn and the player's frequent intakes of breath) and beautifully balanced.
Carlos María Solare