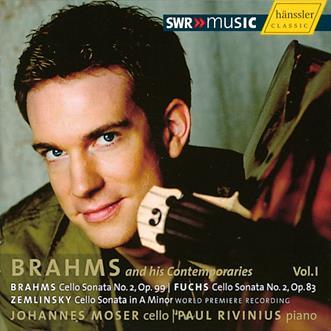 Musicians: Johannes Moser (cello) Paul Rivinius (piano)
Composer: Brahms, Fuchs, Zemlinsky
The star of this disc is the Zemlinsky Sonata. Practically forgotten since its premiere in 1894, given by cellist Friedrich Buxbaum and the 23-year-old composer, the manuscript stayed in Buxbaum's family until the late 1970s, and it was only recently that Zemlinsky scholar Antony Beaumont was able to make a performing edition. This Hänssler release vies with a rival from Nimbus with Raphael Wallfisch, also just released, for the status of world premiere recording (both claim the honour on the packaging).
As a work it's full of interest, evidently strongly influenced by Brahms, but a worthy successor to that composer's two cello sonatas. Johannes Moser and Paul Rivinius play with intensity of tone and fluid phrasing, never losing the dramatic tension. The individual movements are less strongly characterised than in the Brahms, with the finale a real mixture of contrasting material.
What possessed Zemlinsky's teacher Robert Fuchs to write in the flat-ridden key of E flat minor only he can know. Moser plays the sonata's gentler material with subtlety and a singing tone, particularly in its solemn, hymn-like slow movement, enhanced by the mellow recorded sound.
Brahms's F major Sonata, the springboard for the other two works, has plenty of good moments but makes a less than satisfying whole. In the first movement, although the slurred tremolo bowing is admirably accurate and there's a beautifully accomplished mood change to Grazioso, figures like the forte descending octave figure are curiously underplayed, resulting in a sudden loss of drama. The Adagio has some exceptionally well defined pizzicato and there are some pleasing touches of rubato in the delicately played opening melody of the finale.


JANET BANKS