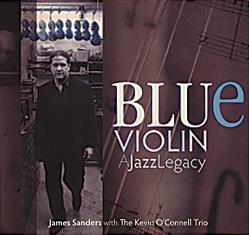 The Strad Issue: M/ay 2013
Description: Understated reinterpretations of jazz standards
Musicians: James Sanders (violin) Kevin O'Connell Trio
Composer: Various
James Sanders is a classical violinist who has spent two decades learning his craft as a jazzer, with this record the fruits of that labour. He's chosen a set of standards and refreshed them with a light, uncomplicated touch – a few neat bebop licks here, the odd more contemporary beat there – suiting pianist Kevin O'Connell's accomplished but pretty straight-ahead jazz trio. O'Connell himself is a little more engaging as an improviser than Sanders, whose solos sometimes lack a little direction. He feels more at home in and among the slower music, where his sound is pleasingly unadorned.
Falling Grace is a highlight: it could so easily have been syrupy and over-schmaltzed, but the melody is plaintive, even feathery – a beautiful reflection of the fact that many of the tunes were originally written for sax or trumpet, not violin. Just occasionally this understated approach tips towards lacking presence, for example in the blues of the title track, especially as the mix rightly puts Sanders among rather than on top of the ensemble. Nevertheless, even if he doesn't always pack a punch in the busier moments, the quieter parts of this album exemplify how, in this music, less is very often more.


JAMES CREL