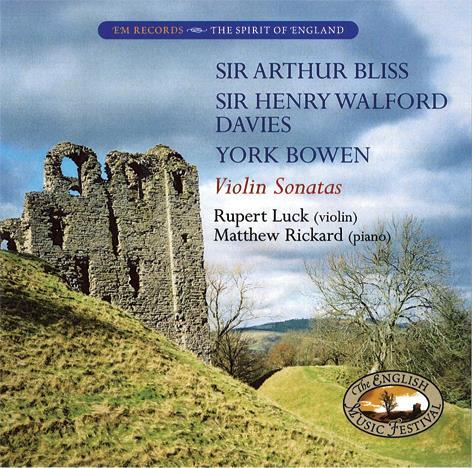 The Strad Issue: January 2011
Description: Welcome recordings of three rare British violin sonatas
Musicians: Robert Luck (violin) Matthew Rickard (piano)
Composer: Bliss, Walford Davies, Bowen
When Robert Luck examined the manuscript of Arthur Bliss's unpublished Violin Sonata in the Cambridge University Library he found that it had three pages crossed out. He has since been able to reunite it with the rediscovered replacement for that section, and by bringing the two together has produced a performing edition of a one-movement work that can be seen as one of the final outpourings of the Romantic era.
Luck is also responsible for bringing back into circulation two unpublished violin sonatas by Henry Walford Davies, which reveal a composer looking unsuccessfully for memorable thematic material. York Bowen's elegant sonata is on a much higher level of inspiration, with its two musical voices weaving long lyric lines into a rich textural tapestry.
The three works have in common the pivotal use of the piano, and Matthew Rickard perfectly captures the long sweeping phrases that characterise the Bliss and Bowen, but seems to get a little carried away in his forward thrust through the finale of the Walford Davies, where the violin is carried along as if on a tidal wave.
With intonation perfectly centred, even when Bliss sends the violin flying on high, Luck has an intuitive feel for the music combined with the brilliance that Bowen calls for in his finale, which is performed with suitable panache. The recording achieves a most realistic concert-hall balance between instruments.


DAVID DENTON