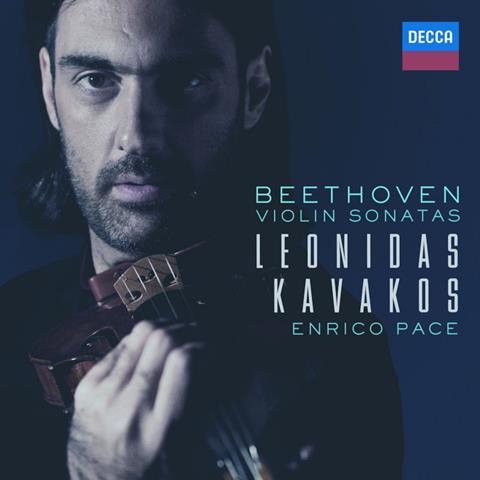 THE STRAD RECOMMENDS
The Strad Issue: January 2013
Description: A masterly set that combines Beethovenian ferocity and gentleness
Musicians: Leonidas Kavakos (violin) Enrico Pace (piano)
Composer: Beethoven
Leonidas Kavakos plays Beethoven's early violin sonatas with a nice sense of scale. The expressive vibrato is just warm enough, the melodies are exquisitely but undemonstratively shaped, and rubato is used sparingly and to great effect. But Beethoven is Beethoven after all: Kavakos turns up the heat in the stormy minor variation of the Andante con moto of op.12 no.1, and the finale dances and sparkles with wit. The first movement of op.12 no.2, with bone-dry staccato and close attention to dynamics, has humour and drama. In the slow movement of no.3, Kavakos produces melodic playing of masterly simplicity. The first movement of the A minor op.23, too, once away from the stormy rhetoric of the opening, has simplicity and calm, and much of the last movement is disarmingly gentle, with the fortissimo outbursts standing in stark relief.
Throughout the set, Kavakos's lyrical gifts hold attention: in the midst of an arresting performance of the 'Spring' Sonata the slow movement is sublime. The dust-dry staccato is in evidence again in the first movement of the C minor. The sonata keeps moving, but the tendency to place a slight hiatus before every sudden drop in dynamic, of which there are many throughout the set, is beginning by now to sound like habit rather than musical judgement. The second movement of the G major Sonata, with eloquent vibrato and subtlety of bowing, is wonderfully warm and intimate.
In the hands of Kavakos and the superb Enrico Pace, the 'Kreutzer' Sonata is a complex mix of fierce energy and tenderness. The variations bubble along happily in the middle, and the finale is a fleet, irresistible tarantella. The final G major Sonata has a finely judged blend of sophistication and naivety. After hearing all ten, what stays in the mind, for all the colour and drama, is something gentle and captivating. The acoustic is resonant, and Kavakos is close-miked, violin and respiration alike.
TIM HOMFRAY