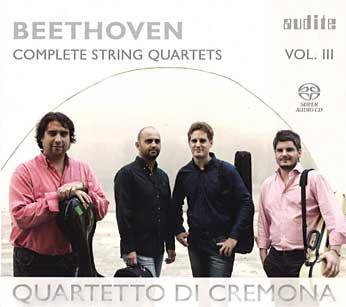 The Strad Issue: January 2014
Description: A Beethoven quartet coupling with plenty to enjoy
Musicians: Cremona Quartet
Composer: Beethoven
We may have grown accustomed to closely recorded string quartets in a relatively dry acoustic, but this Audite release is quite different in its spacious and resonant perspective. Not one for those looking for the minutiae of inner detail, the Cremona Quartet takes an uncommonly long-term view of each movement of Beethoven's great E minor Quartet. The opening is both highly charged and pugnacious, its mood contrasting with a second movement that flows serenely onwards at something close to the composer's suggested metronome mark.
More clean-cut articulation would have been welcome in the central round dance of the scherzo, and there is a rather mannered approach to a finale that never reaches the white-hot temperature felt in the Brodsky Quartet's revelatory recording (Brodsky Records, reviewed July 2006).
The Cremona's op.127 would not be my choice for a library version, though on first hearing its strongly punctuated opening movement is often very striking. Relaxing into the long slow movement, it is a reading couched in sorrow and regret and makes a perfect foil to the players' suitably belligerent account of Beethoven's defiant finale.
Intonation leaves question marks, but this highly regarded Italian quartet produces a very beautiful, rounded and warm tonal quality.
David Denton