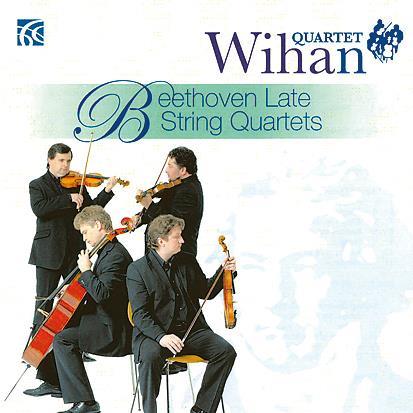 The Strad Issue: January 2009
Musicians: Wihan Quartet
Composer: Beethoven
Beethoven's so-called 'late quartets' have an inevitably large and long discography. The 1928 recordings by the Rosé Quartet (including op.131 on Biddulph) are perhaps the closest on disc to the sound world familiar in 19th-century Germany (although the Klingler Quartet is more closely allied to the Joachim tradition) with languid portamentos and a tight, puritanical timbre. Those of the Busch and Capet quartets show the rapidly changing world of string sonority in the inter-war years, while classic recordings by the Amadeus and, more recently, Lindsays lend their distinctive flavours to Beethoven's esoteric yet poignant rhetoric.
In such illustrious company, these live recordings by the Czech Wihan Quartet come across very well. Delivered with great accuracy and tightness of ensemble, and transmitted here through a sensitive and very clear recording, the performances allow every note of Beethoven's monumental textures to stand out, while at the same time coherently conveying the larger structures. There are moments of great delicacy and charm, yet the op.133 Grosse Fuge is delivered with tremendous energy and unrelenting dynamism, which gives a sense of enormity to this extraordinary movement. My favourite performance is of op.132, where the Wihan players explore the variety of texture with particular clarity.
The limitation of this set is, by and large, a matter of performance taste. Like many modern ensembles, the Wihan can employ a sharp bounced bow-stroke on staccato short notes, which is unlikely to have been Beethoven's expectation at a time when broader, on-string staccatos were more common. First violinist Leo?s Cepick´y's vibrato, although admirably varied, is slow and wide at times (not unlike Norbert Brainin's unmistakable tone) which can be rather distracting and creates moments of tonal crudeness in an otherwise lush but well-controlled performance style.
The players of the Wihan Quartet, formed in 1985, evoke their Czech heritage in terms of the warmth and breadth of their tone and one can understand the accolades they have received, including winning the London International String Quartet Competition in 1991. There is a sense of restraint here, with a wellspring of intensity beneath, that I found highly persuasive. This is playing of the highest order. Thoroughly recommended.
David Milsom