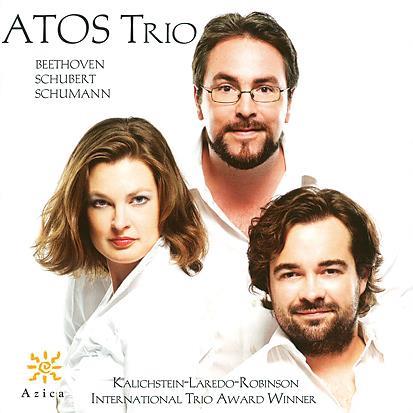 The Strad Issue: January 2009
Musicians: ATOS Trio
Composer: Beethoven, Schubert, Schumann
The programme is unhackneyed, the playing is fresh and skilful, with excellent string tone, and the recordings are excellent. The young ATOS Trio from Germany made this American CD as part of its reward for winning the 2007 Kalichstein–Laredo–Robinson competition. The players have also recorded trios by Herzogenberg in their native country.
The Beethoven and Schumann trios have unconventional four-movement structures, with third movements that initially seem like premature finales, and need careful pacing and characterisation. The ATOS players manage pretty well.
The slow introduction to the Beethoven draws the ear in; and the Allegro is full of bounce. Throughout the first movement the players find little oases of calm, especially in the mysterious passage before the coda. They bring delightful contrasts to the Allegretto, with oomph when needed, a pleasing lilt to the minuet-style movement and zip to the finale.
Everything in the Schumann has a nice feeling to it, although they cannot avoid the one-string banjo impression of the outer movements. They are lyrical in the slow movement, with a well controlled outburst in the middle. The scherzo is fine and the finale has the required geniality.
The Schubert movement is too slow, with rhythm that sits down, going nowhere. Speeding up for the agitated central section does not help.



TULLY POTTER