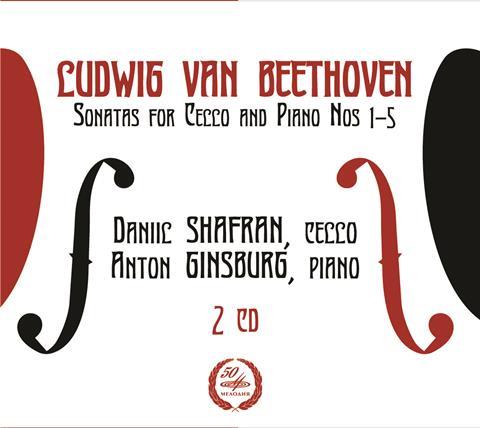 The Strad Issue: June 2016
Description: Cult cellist goes over the top in the five Beethoven sonatas
Musicians: Daniil Shafran (cello) Anton Ginzburg (piano)
Composer: Beethoven
These excellent interpretations of the five Beethoven cello sonatas are well recorded but spoilt for me by the actual sound emitted by the cellist. Daniil Shafran (1923–97) has a cult following but, as I see it, although he always had a special way with short genre pieces, his career was a story of steady coarsening and vulgarising in both his interpretative and executive faculties. He is caught here in 1971 at a stage where his interpretations are still disciplined and sensitive. Anton Ginzburg, his usual partner in later years, plays superbly throughout and their duo can hardly be faulted in matters of rhythm, phrasing and structure. The two op.5 sonatas are delightfully rhythmical.
Everyone's favourite, the A major op.69, is a little unwieldy in places: one or two poorly pitched notes suggest long takes. In the C major op.102 no.1 rhythm is strongly handled, including the built-in pounces in the finale, and Shafran's tonal variations show his thoughtful side. The great D major op.102 no.2 is a model performance apart from the noble Adagio, where Shafran disappoints in comparison with, say, Tsuyoshi Tsutsumi (Sony).
Sadly, I find Shafran's tone hard to take. Go back to his 1956 Rachmaninoff Sonata and you hear a constant flickering vibrato, well controlled. Here, a basic hollowness is overlaid with a heavy, sometimes almost stuttering vibrato that emerges in throbs and gobbets. Now and then he plays quietly, with little or no vibrato, which is more attractive; but in general his left-hand technique has gone over the top.
Tully Potter