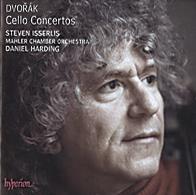 The Strad Issue: January 2014
Description: Fresh insights mark a long-awaited Beethovenian survey from a master cellist
Musicians: Steven Isserlis (cello) Robert Levin (fortepiano)
Composer: Beethoven
Why does it come as no surprise that a cellist of Isserlis's stature has waited this long to commit Beethoven's cello works to disc, and that, when he finally does, it is with fortepiano? Ever modest and quirkily enquiring, Isserlis, on a gut-strung 1726 Stradivari, joins fortepianist Robert Levin to explore the different balance and effects achieved with a keyboard instrument from Beethoven's day. The result is not dry academic authenticity, but a wealth of unexpected treasures and new insights, enlivened by the passionate joy of their music making.
If you envisage a performance with fortepiano as more genteel, think again. The instrument's action introduces a new percussive element – big chords make marvellous crashes and batteries of double semiquavers clatter quite alarmingly in this recording of enjoyable realism and clarity. The Allegro vivace of the G minor Sonata kicks up a storm at its height and the cello cross-string semiquavers in the A major Sonata's first movement sound almost demonic.
This instrumental combination is capable of immense delicacy, too. Fitted with una corda pedal, the fortepiano, a copy of an 1805 Walter instrument, is barely audible at the Adagio in the G minor Sonata's second movement, and the pianissimo chorale-like passage with cello interjections in the D major Sonata's serene Adagio is remarkable for its sense of timelessness and calm.
The three variation sets afford many more opportunities to revel in this duo's eloquence, from the creamy legato of the cello melody in Variation 11 of the Handel Variations to the truly rumbustious coda to the 'Bei Männern' set.
Janet Banks