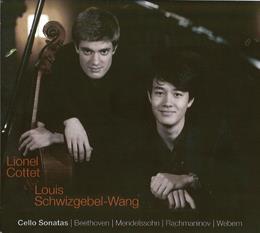 The Strad Issue: January 2012
Description: A promising debut from a young Swiss cellist
Musicians: Lionel Cottet (cello) Louis Schwizgebel-Wang (piano)
Composer: Beethoven, Mendelssohn, Webern, Rachmaninoff, Shostakovich
Here, two 21-year-old Swiss musicians present a wide-ranging programme at a concert recorded last December in the Great Hall of the Geneva Conservatoire. As a calling card this self-published disc makes an impressive entry point, though in terms of a commercial release it faces competition from the world's greatest cellists.
But what price do you put on youthful spontaneity when playing music by an equally youthful Beethoven? The long sweeping phrases, buoyant vivacity and tonal beauty of Cottet's Jean-Baptiste Vuillaume cello are more than sufficient to excuse some suspect intonation. I equally like the players' fresh-faced account of Mendelssohn's Second Sonata, where Louis Schwizgebel-Wang is excellent in the mercurial moments entrusted to the keyboard. If Cottet's tuning is again compromised, he nevertheless shows a nimble left hand and a bowing arm capable of seamless passages of lyric beauty.
The duo delights in the big gestures of the Rachmaninoff Sonata, the outgoing piano at times urging the tempo on, with the outer sections of the second movement taken very quickly. Cottet's intonation again sounds tired by the finale, though his Andante is rapt and very tender. There were two short encores, with Webern's Langsam complementing the composer's short Sonata included in the main body of the programme.
The two short discs are well balanced in terms of sound and engineered to studio quality.
DAVID DENTON