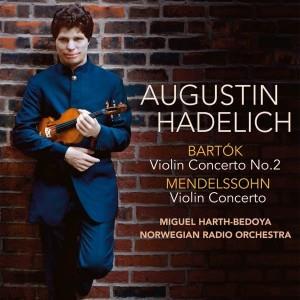 Description: Sparkling Mendelssohn and the best Bartók Second for ages
Musicians: Augustin Hadelich (violin) Norwegian Radio Orchestra/Miguel Harth-Bedoya
Composer: Bartók, Mendelssohn
Augustin Hadelich has won acclaim for playing and programming, his 2014 Sibelius/Adès disc becoming one of the 'Top Classical Albums of the Year' in the New York Times. I can't say that the unusual pairing here alone would motivate me to buy the disc, but it is a much more satisfactory conception than one might imagine, each work shedding interesting light on the other.
What would make me buy this disc is the playing itself. The Mendelssohn Concerto is brightly paced throughout, and Hadelich's virtuosity sparkles, especially in the finale. I didn't especially like the wide and slow vibrato, which renders the first movement's second subject a bit heavy and the slow movement prey to a little too much tonal gloss. Moreover, the recording choices can make Hadelich's tone a little overbearing – but these are minor criticisms in an intelligent reading.
The Bartók Second Concerto is the star here: the utter accuracy of Hadelich's technique is astonishing, and the crisp sonorities resonate beautifully throughout the work. Bartók's complex textures are clearly and excitingly enunciated by soloist and orchestra alike, and there is a compelling transparency to the last movement – the best interpretation of this concerto I have heard for a long time.
DAVID MILSOM