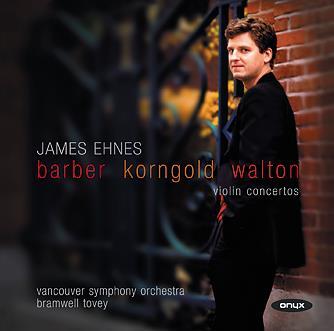 The Strad Issue: January 2007
Musicians: James Ehnes (violin) Vancouver Symphony Orchestra, Bramwell Tovey (conductor)
Composer: Barber, Korngold, Walton
Nearly 79 minutes of wonderful playing: CDs rarely come more generous than this. James Ehnes's glowing tone and melodic eloquence are nigh-on ideal in these lush works, all of them wearing their romantic credentials with pride, all written by composers who could spin one fine tune after another.
Oddly, although the CD cover puts Barber first, it is Korngold who first appears (an embarrassing trap for the unwary?). Ehnes sweeps into its generous opening melody with élan, but also, crucially, with a sure sense of pace. Throughout all these concertos he manages simultaneously to luxuriate and to carry the music forward; the musical direction is always clear, and each movement is firmly structured. Along with the melodies, of course, come the pyrotechnics, and Ehnes at full virtuoso tilt is a splendid thing to hear, in the energetic high spirits of Korngold's finale, the deliberately all-but-impossible demands of Barber's Presto in moto perpetuo, and the intricate flights of the Walton, written to give Heifetz a lot of runs for his money. His playing is always clear and his tone beautifully focused, even in extremis.
The recorded sound is rich, and allows Ehnes both to sound clear of the orchestra and to conduct dialogues within it. He is aided by a sure-footed Bramwell Tovey, who knows when to give his soloist room and when to press on.
TIM HOMFRAY