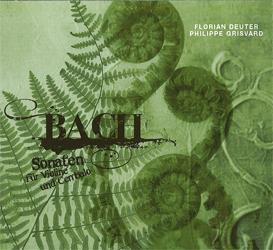 The Strad Issue: January 2012
Description: Gutsy accounts of Bach's accompanied violin sonatas
Musicians: Florian Deuter (violin) Balázs Máté (cello) Philippe Grisvard (harpsichord)
Composer: Bach
Florian Deuter comes to this recording with the impeccable credentials of having served as concertmaster to a number of Europe's major period-instrument orchestras, where he worked with the French-born harpsichordist Philippe Grisvard. The two are well matched in their uncomplicated approach to this group of six sonatas, with Deuter's gut strings adding the kind of pungency much suited to Baroque performances, though the lower register of this modern copy of a Guarneri has a fruity viola quality.
Their chosen tempos bring an unhurried sense, even in the fast-flowing Presto in the Second and final Allegro of the Fourth Sonata, giving sufficient time for Deuter's judicious vibrato to bring warmth to the notes. Slow central movements flow gently with unaffected poetry and the harpsichord sensitively underpins the lyric line – I have heard few performances to match the rapt beauty of the opening Adagio of the Third. The solo movement of the Sixth gives Grisvard scope to show off his agility, and the sonata ends in a mood of lively happiness.
Articulation is immaculate and intonation is generally precise, and Deuter glitters in the overt virtuosity of the two additional sonatas, BWV1021 and BWV1023, where Balázs Máté's cello also makes a very positive contribution.
Rachel Podger's acclaimed recording (Channel Classics) reveals more rhythmic flexibility and engenders a greater sense of thought-provoking spontaneity and personality. Yet a point in Eloquentia's favour is its outstanding sound quality, despite a certain change in ambience between works.
DAVID DENTON