The international cello soloist and chamber musician on his recovery from a motorbike accident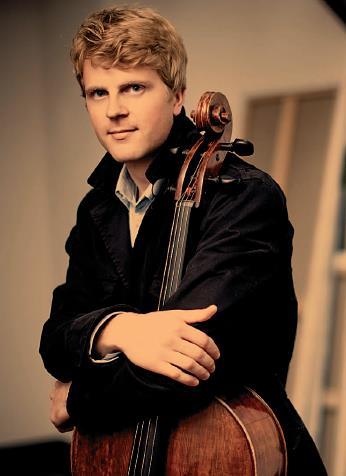 How did you injure your hand?
It happened in June 2005 when I was studying in Vienna with Heinrich Schiff. I had just finished an intensive chamber music festival in Heimbach and I wanted to relax, so I decided to try out a friend's motorcycle for fun. The power of the engine surprised me and I lost control, falling off the bike and putting my left hand down to protect myself.
My hand was pretty painful afterwards but I didn't think it was serious. However, by the next morning I couldn't move my hand at all, so I called Heinrich Schiff for some advice because he'd mentioned he knew some hand specialists. He recommended that I go to a special orthopaedic hospital.
An X-ray revealed nothing, but the orthopaedic surgeon said I might have broken the scaphoid bone at the base of my thumb. This bone rarely looks fractured straight after an accident, so they fitted a temporary cast and told me to come back in two weeks for another X-ray.
I spent the next fortnight in a horrible state of hope and dread. When they X-rayed again there was a clear fracture visible but it wasn't bad enough to need an operation, so a solid cast was fitted on to my wrist and had to stay there for the next four weeks.
What was your reaction?
For the first week it felt as if my whole world was over. I didn't even go near my cello – I just didn't feel like doing anything. I had to cancel a CD recording, a competition and some chamber music – the whole summer and early autumn had been fully booked. That hurt much more than my hand.
But life goes on and that is the most important thing I learnt from the experience. It was the first time in years that I had time to think: 'What would I do if I didn't play the cello?'
How soon were you able to play again?
When they removed the cast in early August, the doctor told me that the bone would be 50 per cent healed, so it would be strong enough to use, but very painful. I had agreed to give a concert at the start of September. I knew this didn't give me much time but I desperately wanted a target to work towards.
When I first tried to play it was horrible: I sounded just like a beginner. If you don't move a part of your body for seven or eight weeks it feels almost dead, so you have to awaken it very slowly and carefully. The first challenge was to regain strength so I had lessons with a physiotherapist who taught me to use a special exercise ball to strengthen my hand and arm.
Playing the cello was also a huge part of my recovery. I started with simple children's exercises, playing for very short periods, only until it hurt, then resting until I felt ready to try again. I didn't take painkillers because I wanted to know exactly what was going on. Then I moved on to some scales, always using an absolute minimum of finger pressure on the strings. I also had to work hard to keep my left-hand technique safe and intact because the body tends to adapt in order to avoid pain.
After four weeks of careful work and exercise, I performed the Haydn C major Concerto but I felt very on edge. I had to force myself on to the stage, telling myself, 'Don't think, just go.' The performance was painful, particularly because I'd lost the callouses on my fingers and my wrist also felt uncomfortably weak.
Julian Steckel filmed line in November 2017
When did you start feeling confident again?
By November that year I was well enough to enter the Rostropovich Cello Competition in Paris; it was incredibly helpful to concentrate on something specific and I won the second prize, which was a nice comeback. It was only after the competition that I started to struggle – not physically, but with the worrying feeling that I was still not at my usual playing standard. It wasn't until about a year after the accident that I finally felt back to my best.
What advice would you give other musicians, based on your experience?
If you ever get a hand injury, ask senior colleagues for medical recommendations and get the best possible specialist treatment, right from the start. Of course I wish I'd never had the accident, but I passionately believe that you shouldn't live in fear and be too cautious. Even if you avoid sport, you can still hurt yourself falling over a suitcase at the airport. If anything, I'm doing more focused exercise now than ever before; it's so important to keep fit when your profession forces you to sit down for most of the day.
This article was first published in The Strad, August 2009.
Photo Marco Borggreve