As the violinist heads to London to perform the work with the BBC Symphony Orchestra, he tells The Strad what is special about this violin concerto in all but name – and of his surprise that it is not programmed more often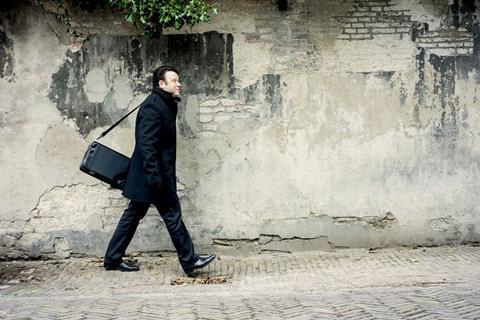 I first learnt Bernstein's Serenade 20 years ago, when I was invited by Hamburg Ballet to take part in Bernstein Dances. That's when the love affair began. It's one of the greatest violin works of the 20th century and Bernstein himself considered it his best 'serious' work. So I'm at a complete loss as to why it's not more popular and why it isn't heard more often in concert halls.
It's very difficult, technically, but so are many other concertos. Maybe some orchestras don't like that it's for strings, harp and percussion, rather than full orchestra. Or maybe they are worried about scheduling anything 'new' and think it's better to programme the Bruch Concerto because it's famous. If we subscribe to that model we might as well call it a day – there is no future whatsoever.
Bernstein was commissioned by the Koussevitsky Foundation to write a piece based on Plato's Symposium, a treatise on love. In his introduction Bernstein writes: 'There is no literal programme for this Serenade, despite the fact that it resulted from a re-reading of Plato's charming dialogue, The Symposium.' However, Isaac Stern, who gave the premiere of the work in 1954 with Bernstein conducting, told me the story that the composer had forgotten about the commission. He remembered only a few weeks before the deadline and quickly put the piece together, reworking two of his existing piano pieces as two of the movements.
Each of the five movements represents the view of a Greek philosopher (Phaedrus, Aristophanes, Eryximachus, Agathon and Socrates, respectively). Each one speaks about matters of love, whether emotional, physical or spiritual. The diversity of emotion is enormous. The challenge is to switch between these feelings, from the intimate lyricism of the opening, through the whirlwind of the third movement and the profundity of the fourth, to the party music of the fifth. It's also hard not to let your emotions get the upper hand, because you can become very excited.
The third movement is one of the most technically demanding things I've ever played, with the violin and orchestra going round and round each other. The fifth-movement cadenza between the violin and solo cello makes me think of Shostakovich, and after it time stands still, as if nothing can come afterwards. Yet a minute later the orchestra comes in and we have a party. Bernstein writes of this moment: 'If there is a hint of jazz in the celebration, I hope it will not be taken as anachronistic Greek party-music, but rather the natural expression of a contemporary American composer imbued with the spirit of that timeless dinner party.'
Bernstein is quintessentially American. America is an extraordinary melting pot of many cultures and traditions, which have come together at different times in history and in one way or another influenced each other. Bernstein's work reflects this. It may not seem to have one cohesive sound, but it is this very 'multi-stylism' that is his style. At the same time, there is a specific language. Whether you listen to The Age of Anxiety, Mass, Kaddish or Candide, you recognise Bernstein. His writing is unmistakable – maybe more or less at different times, but it's always there. There are even familiar intervals. For example, the major 2nd followed by a major 3rd is very typical for him – you can hear it in the Serenade, The Age of Anxiety or West Side Story.
When I was a child in Russia, my father had in his collection a couple of recordings of Bernstein conducting, smuggled from the West. When I came to the US and I learnt English, I started reading about him and listening to his Harvard Lectures, which had a great influence on me. They offered the most enlightening moments I've ever spent listening to any musician talk. Being one of the greatest communicators the world has ever seen, Bernstein was able to project his ideas and connect to everyone, on every level of expertise – from professional to layman – without being condescending.
When I first learnt the Serenade I read Plato's Symposium in a terrible Russian translation – Greek was not an option and my English wasn't good enough back then. I asked Isaac Stern how literally one should take the text when performing the piece, and how important it is to know what each of the quoted philosophers said. Isaac said that Bernstein had told him, 'Just think of love.' From that I took that for Bernstein, the music and the literary inspiration were parallel universes. You can try to make the connections, but love is always the guiding light when performing it.
Love manifests itself in so many ways throughout one's life, whether it's an infant's mother-love, parental love, first falling in love, first relationship or first heartbreak – and all the rest. All these shades and colours find a place in this music, although it's not necessary to ascribe one to every bar: as long as you remember it and yearn for it, there will be a connection.
I adore this piece. I know every note of the score sideways and backwards and it's part of my being, physically and emotionally. I'm sad that only a few of my colleagues embrace it. Pedagogically speaking, it has every element that you will ever need to help you improve – it's all there. So when you're exploring 20th-century repertoire, don't automatically go to the Barber Violin Concerto, just because it's more popular (even though it's a gorgeous piece). Don't follow the well-trodden path and go where everyone else goes. Be curious. Try this masterpiece.
Vadim Gluzman performs Bernstein's Serenade at London's Barbican Centre on 27 January with the BBC Symphony Orchestra – click here for more information