Violinist Nazrin Rashidova describes making arrangements of Bizet, Mozart, Bach and Elgar for her new album, 'Carnival'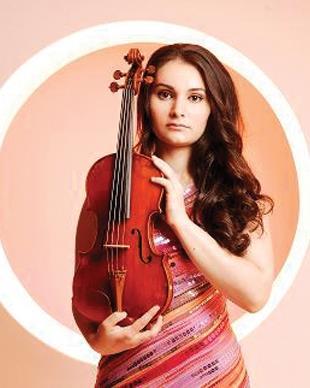 The art of arranging stems from a long tradition. Up until the 20th century, reductions of large-scale works, available to a wider audience, reflected an extra income for composers such as Beethoven, Mozart and Mendelssohn. Indeed, there was a large market for salon music-making in the 19th century.
For me, personally, arranging is a process which begins with a strong knowledge of the original work and later turns into an interesting challenge - especially when you are faced with arranging or transcribing for an unusual combination of instruments, such as violin and guitar. There is always the desire to develop the capacity of the instruments within the context of the new arrangement.
Such concerns were foremost in my mind when I opened the score of Bizet's Carmen Suites, arranged by Ernest Guiraud, for my latest album, 'Carnival'. Arranging one of the most popular works from the opera genre is quite a responsibility in itself; it is even more so when the violin is known to have a strong soloistic connection with this work, through a number of virtuosic arrangements by Sarasate, Hubay, Drdla and Waxman. However, the real difficulty lay in reducing the full texture of the symphonic arrangement (encompassing almost 30 instruments) to the mere ten combined strings of violin and guitar.
The initial stages of the arrangement took place jointly with my friend and colleague - guitarist, Stanislav Hvartchilkov. In our initial discussions we decided which parts and melodies would be allocated to each instrument, and then set out on a blind journey to arrange each of our parts individually. Following a few rehearsals and further modifications, the two halves of the musical puzzle started taking shape.
One of the most important factors of the project was accepting an accompanying role for the violin, which would be unimaginable in any number of other arrangements. When performing with guitar the violinist can forget about playing forte. However, the softer dynamic range allows for a variety of different tonal hues, tints and shades. The arrangement shone a completely different light on the guitar part as well - encouraging more musical and singing lines in contrast to its plucked and percussive qualities. The experience brings to mind a quote by Mischa Elman – 'In transcribing I try to forget I am a violinist, in order to form a perfect picture of the musical idea'.
This new arrangement attempts to remain as loyal as possible to the original orchestral score - the violin and guitar engage in an equally virtuosic exchange of popular themes, making it the first of its kind for this combination of instruments.
'Carnival', featuring violinist Nazrin Rashidova and guitarist Stanislav Hvartchilkov is released on First Hand Records on 2 Sept 2016.
Read and Watch: Transcribing Bach's Air for solo violin