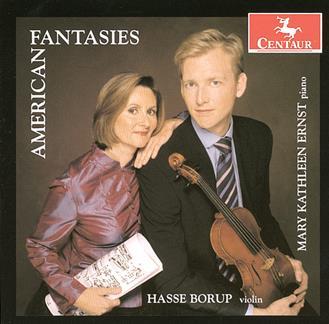 The Strad Issue: January 2008
Musicians: Hasse Borup (violin) Mary Kathleen Ernst (piano)
Composer: Schoenberg, Cage, Schuller, Harris, Kirchner & Coulthardt
It is something of an irony that at a time when contemporary musical techniques have reached unprecedented levels of subtlety and insight, Schoenberg's serial work is now generally viewed as a stylistic cul-de-sac rather than the ultimate solution to the tonal crisis of the 1920s. Such well-intentioned but misguidedly uningratiating performances of the Phantasy as the famous 1960s televised account by Yehudi Menuhin (semantically mismatched and technically wayward) and Glenn Gould (searingly perceptive) did little to further the cause. Yet so sensitive are Hasse Borup and Mary Kathleen Ernst to the inner workings of this late masterpiece, so responsive to the music's post-Debussyan splashes of textural colour, that one is left wondering what all the fuss was about. Even the trailblazing Nona Liddell/John Constable account for Decca (1973) cedes to this new version in which Borup uncovers an affectionate, dance-light quality in the brief scherzo-like section that one would barely have thought possible.
That same interpretative warmth informs Cage's Six Melodies – rhythmically skittish, tonal meditations that sound like dislocated musings from a Copland sketchbook. Gunther Schuller's Recitative and Rondo and Donald Harris's Fantasy continue where the Schoenberg Phantasy left off, interweaving seemingly fragmentary ideas into a compelling whole, made all the more gripping here by Borup and Ernst's interpretative empathy and water-tight ensemble. The night-music rustlings and neo-Romantic gestures of Leon Kirchner's searchingly introspective For Solo Violin suggest a closer affinity with Bartók, while Jean Coulthardt's Day-dream closes the recital in the warm glow of Fauré-like musings. The refined engineering captures the searing concentration of these performances most persuasively.
JULIAN HAYLOCK