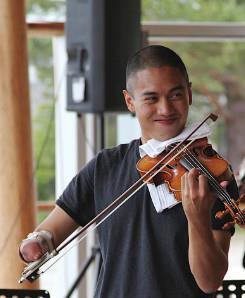 Canadian violinist Adrian Anantawan was born without a right hand. He began studying the violin at the age of nine and attended the Curtis Institute of Music, where his teachers were Ida Kavafian and Yumi Ninomiya Scott. He has also studied with Itzhak Perlman, Pinchas Zukerman and Peter Oundjian. As a soloist he has performed with orchestras in North America. He has been closely involved with several initiatives at the Holland Bloorview Kids Rehabilitation Hospital in Toronto, developing chamber music opportunities for children with disabilities. Here he offers his experience of using an adaptation for playing the violin, and gives advice to teachers of children with limb differences. Read our article on teaching adaptive children in the December issue.
People email me from different parts of the country and ask for specific advice on how to create a suitable adaptation for a child who has a desire to play an instrument, but has some issue with their limbs. The first part of the process is trying to set the child up with a prosthetist who is flexible and can think outside of the box, but also to team the prosthetist up with a strings teacher who understands the mechanics of the instrument. ?
The adaptation that I had fitted was done at the Bloorview rehabilitation centre in Toronto, and I try to connect people from wherever they are in the world to an institution like that – one that works specifically with limb-different children. If those institutions don't have a violin teacher who they can team up with, then I'm happy to consult with them as well. ?
In the US there are some great hospitals that work with limb differences in general, but there are also private companies and independent prosthetists who do this work as well, and have been very successful with the use of adaptations. Creating a suitable adaptation is a trial and error process that can take a couple of months to get right. It's tough because the child wants to start with their bow right away. But they have to be patient with the process. I've seen some adaptations take so long to perfect that unfortunately the child loses interest or they find another instrument. But there are other instances where the prosthetist tries something perfect immediately and the child is able to start playing right away and is able to feel successful. Whatever they're doing with that adaptation, though, a lot of times these kids are creating their own technique on the fly. The only thing that a teacher can do is be as encouraging as possible, but also give the student a conception of what the instrument should sound like. And then it's up to the child to constantly refine and reflect upon their sound. ?
The children who are successful have teachers who explain things to them clearly but also provide examples of the highest ideal of what the sound can be. That's how I worked when I was young. I didn't depend on a text book or a method to produce the sound. My understanding was always based on my ears. I always tell students that the most important appendages that you have are not your arms, but your ears. You need to be able to observe and listen to something, and then find a way for your body to reproduce those sounds in an increasingly sophisticated and detailed way. ?
When teaching limb-different students, there's always a balance between how much is based on the necessary mechanics of whatever their limb difference dictates, and how much is just proper technique, given their particular situation. Teachers will normally have a good sense of the physical potential of the student's joints and mechanics – for example, how much they can move their shoulder, or how much pressure they can put down with both hands. Teachers need to understand what the student can do at maximum capacity, and work towards developing a technique that's synergistic with their limb difference, but doesn't give them the excuse to do things that are counterproductive to their potential. In my particular case, the length of the bow I can use is just a little more limiting than it would be for an able-bodied musician. But one of my teachers taught me that if bow changes are smooth enough, then you have an unlimited bow, which is something I try to apply to this day. Certainly my bowing may be different compared with the typical player, but I do my best in order to produce the effect of an able-bodied musician. And up until this point, there hasn't been much that has been unsuccessful as a result of that mentality.
When I began learning the violin, I wasn't aware of any high-level musicians with limb differences who played the instrument. But there were always examples of musicians who had different disabilities, and who were very successful in their field. They all had the same thing in common: they didn't let their disability hinder their love for what they wanted to do in music.
When I started, the other instrument options were a lot more practical – like the trumpet, which could be adapted for playing with one hand, or the French horn. But I was lucky in a sense that I chose the violin because I liked it the most, and my parents were on board right away. For them it was about it being the most beautiful-sounding instrument, rather than the most practical one. If, going forward, there are more examples of successful musicians with limb differences playing stringed instruments, I think that teachers (and students and parents) will begin to consider violin or cello as a possibility for limb-different students, rather than choosing an instrument that seems on the face of it more feasible.???
Buy the December 2013 issue to read the story of how US string teacher Jennifer Petry and her colleagues set up a summer camp to teach children with limb differences. You can watch Jennifer's daughters demonstrate the way they play in this video.
Subscribe to The Strad or download our digital edition as part of a 30-day free trial.
Photo: www.adriananantawan.com