A high-specification case that makes easy work of instrument transport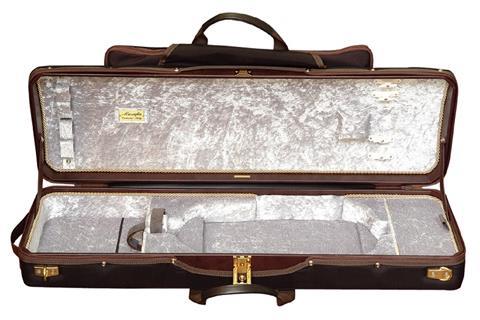 Innovations in materials science continue apace, offering myriad new and improved substances for countless different applications. With their products forming the only barrier between a precious instrument and the outside world, case manufacturers are often quick to incorporate new materials into their designs in an attempt to reassure owners that their instruments are truly safe.
However, Dimitri Musafia, founder of Musafia Cases, claims that the wood-laminate structures of his cases are 'superior in all aspects' to those built from plastic or carbon fibre. 'Laminate conducts far less heat and is lighter than plastic of the same rigidity,' he says. 'As well as that, a case made with a laminate shell won't bounce if dropped and so protects the instrument inside from excessive kinetic energy.'
Musafia's new Lievissima Evolution cases for violin and viola build on the original Lievissima design introduced in 2014 and use the same six-ply laminate structure and four-point suspension system. 'The new model provides twice as much thermal padding as before,' Musafia explains.
'With padding two centimetres thick, the case is exceptionally well insulated and reduces even further the effect of external knocks and bumps. From an aesthetic perspective, the Lievissima Evolution cases offer a more modern and streamlined look thanks to the elimination of stitching along the edges of the external cover.'
Ranging in weight from 1.9 to 2.6kg, the cases are available in both oblong and dart-shaped models for violin and viola, and in an oblong two-violin version. They are compatible with Musafia's 'Full Protection' system that includes a GPS tracker, a D'Addario Humiditrak Bluetooth-enabled hygrometer, and 'pressure ports' – small holes drilled along the body of the case and covered with waterproof but breathable fabric that allows warm humid air to escape when the case is otherwise sealed.
All Lievissima Evolution cases come with a black Cordura cover and feature a silver plush lining.
Musafia Lievissima Evolution case from €579