Inspired by South Africa's Nobel Peace Prize winners, luthier Brian Lisus made a quartet of instruments that could spread a message of reconciliation and help some of the world's poorest children to make music. Peter Somerford traces its evolution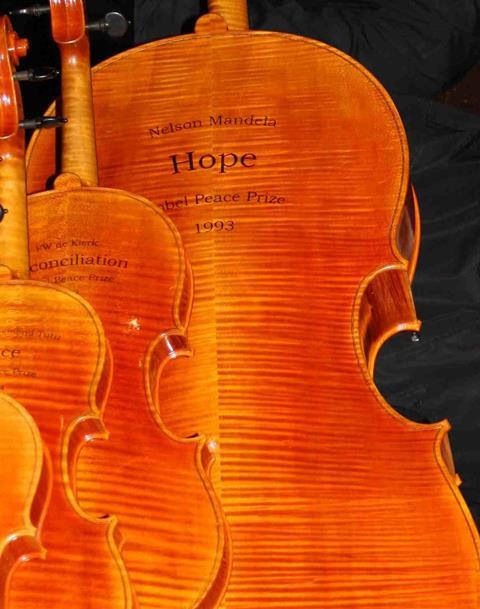 On 15 October 1993 Nelson Mandela was awarded the Nobel Peace Prize. So too was the man who had ordered his release from prison three years earlier, F.W. de Klerk. The prize acknowledged the efforts of both men towards bringing about the end of apartheid and negotiating a path to South Africa's first democratic elections, which would see Mandela elected president in May 1994.
Brian Lisus, a luthier based in a leafy suburb of Cape Town, was at a friend's house on the day of the award announcement. The friend suggested that Lisus should make a quartet to honour Mandela, de Klerk and South Africa's two other recipients of the Nobel Peace Prize, Albert Luthuli, who won in 1960, and Archbishop Desmond Tutu, who received the award in 1984.
Enthused by the idea, Lisus conceived that the instruments should be used for charitable performances to fund music projects in South Africa and developing countries, and that they should stay together and one day travel to areas of conflict or tension where they could be played in the spirit of reconciliation. But for the Newark-trained violin maker, this vision would have to stay a dream for more than 15 years. Aside from work commitments, sourcing funding proved a tough challenge. 'I came so close to getting the project off the ground so many times,' says Lisus. 'A few years ago the Desmond Tutu Peace Centre in Cape Town was very interested in commissioning the quartet for the opening of its building. But that was delayed, and the centre is not due to be completed until 2011.' It was only just over a year ago that Lisus was finally able to find the funding that meant he could start work on what he christened the Quartet of Peace.
Making the four instruments has only been one part of a project that has grown into an international collaboration between musicians and a network of facilitators, who between them have arranged a series of charity concerts featuring the new quartet. Eugene Skeef, a London-based South African composer who worked with anti-apartheid activist Steve Biko in the 1970s, helped Lisus secure the first concert date, for this month at Kings Place in London. 'The only problem was that we had no musicians and no programme, and the venue needed us to come up with both in just two days,' says Lisus.
It was decided almost immediately that the four players should all be South Africans. Frantic calls went out to David Juritz, leader of the London Mozart Players, cellist Peter Martens and his violinist wife Suzanne, and Gareth Lubbe, principal viola of the Leipzig Gewandhaus Orchestra. All were eager to come on board. 'Within an hour we had our four musicians,' says Lisus, 'and they were emailing each other about the programme.'
With the players in place, the project rapidly expanded. More concerts were scheduled, one at the Endler Hall in Stellenbosch in October, and another in November at Leipzig's St Thomas Church, where Bach is buried. And in December, after the Kings Place performance, there are two concerts at Picasso's old studio in Paris.
To a programme of Mozart's 'Dissonance' Quartet, the Ravel Quartet and pieces from Bach's Die Kunst der Fuge, Skeef has contributed a single-movement work called Uxolo, which means forgiveness in both Zulu and Xhosa, South Africa's two most common home languages. 'I chose the name for its meaning and because it straddles the languages of two ethnic groups that at one time were in conflict,' explains the composer. 'The music has slow, regal sections that draw together Western harmony and South African choral harmonies. There are also very upbeat, rhythmically complex sections. David Juritz has called the piece a marriage of Bach and African traditions.'
The concert series will support several charities, including Musequality, which Juritz set up in 2007 to take music projects to children in some of the poorest parts of the developing world. In addition, Lisus has set up a not-for-profit trust that will channel proceeds to charities including Peace Strings, a Suzuki-based primary school strings programme in Cape Town.
Given Lisus's involvement in helping to promote a project that has constantly evolved and grown over the past year, it's little surprise that the instruments took him longer to make than usual. 'Normally I'm a fast worker, except when it comes to arching and thicknessing,' he explains. 'With those stages I take hours and hours, and when I thickness a violin or viola I work to half a gram.' With the first concert booked for 15 October in Stellenbosch, he had a major deadline to focus on. 'Deadlines are useful,' he admits, 'but I tend to finish just in time, no matter how long I've got. I'm not one for steadily working seven-hour days. Instead I do 16 to 18 hours a day over three weeks. That way, you get a great feel for the materials. Working with that intensity and closeness, you really feel the relationship between the front and the back of a violin, for example.'
Lisus certainly went close to the wire with the quartet's cello, delivering the instrument to Martens only hours before the musicians met in Cape Town for their first rehearsal in October. 'Brian had just got it strung up in time,' says Martens. 'I wouldn't say the varnish was still dripping, but it wasn't far off!' By contrast, Lubbe picked up the viola in July, although he had to send it back for Lisus to fix a loose soundpost before he was happy with the instrument's sound.
As a lutherie project, the Quartet of Peace was something of an experiment for Lisus. Never having made a quartet before, he tried to think 'quartet' throughout the making process, and listened to a lot of quartet music. He found that he did not have to make a leap from his preferred instrumental sound signature to the quartet tone he had in mind. 'My main focus whenever I make an instrument is to achieve a sweet quality. Many luthiers go for brilliance, but I am always after a nice, warm character. My whole way of violin making is geared towards that, so for example, I tend to leave the plates quite thick.'
The collaborative spirit of the whole project was reflected in the making process. One of Lisus's students assisted with some of the rough carving, thicknessing and linings, and jeweller Sharon Peddie made the scrolls. 'She has no experience of being a violin maker, and I think for doing a scroll that's a huge advantage,' says Lisus. 'When she makes a scroll, she carves it naturally, like making a sculpture, without having to look at a picture to see how Stradivari did it.'
Lisus is very much a proponent of the instinctive style of violin making, relying far more on his own visual ability than the example or study of old instruments. 'I do a lot by feel,' he says. 'Each part of the instrument has a different feel, and when I've worked the wood and thicknessed it down to the last millimetre, I know it's there, and I'm happy with it. But I don't quite know how the finished instrument is going to sound.'
This instinctive way of working also determined that the quartet instruments, although made at more or less the same time, would not look identical. All are slightly different, which is appropriate considering that they are dedicated to four personalities. Each instrument carries a different inscription on the back: 'Freedom' for Luthuli, 'Peace' for Tutu, 'Reconciliation' for de Klerk and 'Hope' for Mandela. These inscriptions, drawn on to the ground coat with a charcoal pencil, were the last step before Lisus applied his walnut oil-based varnish, a slow-drying mixture that makes the most out of the strong Cape sunlight.
Particularly open about his working processes, Lisus created a deta