American String Quartet violist Daniel Avshalomov visits Cremona, home of Stradivari, to meet current Cremonese luthiers, Eva and Hristo Marino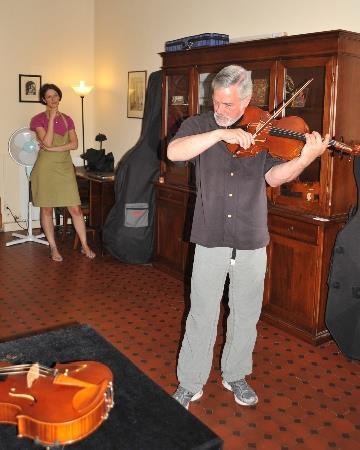 A piazza Stradivari - no surprise, and richly deserved. A Stradivari cheese shop - well, why not? Doubtless the man enjoyed a bit of formaggio now and then. But a Stradivari travel agency? As far as is known, he stayed pretty close to home throughout his life, so this last may be a stretch, but it is all meant to honour the person who, more than any other, put Cremona on the map, and there are dozens more shops by that name in town.

After a summer of global travel for work, the idea of a non obbligato trip may strike many as pazzo, but the ASQ was on vacation, many years had passed since I was last in Cremona, the new Museo del Violino was opening, and I told myself that my instrument was homesick, so once again into the airports.

Another reason: a former student had shown me a quite beautiful modern Cremonese instrument, and I wanted to meet its makers, Eva and Hristo Marino, see their latest violas, and get insiders' views on luthiers and developments in Cremona. Of course I had not anticipated Italy's hottest summer since Vesuvius erupted, but you play the hand you're dealt.

Some people opine that a Cremona without instrument-makers would hardly merit a side trip, but that's an empty argument, since it has that attraction. True, when the wind is right one is reminded that the town is in farm country, but even that is a virtue when you see the freshness of the produce in the markets and restaurants.

The Marinos are charming young people absolutely dedicated to their work – they told me that after their marriage they had even 'translated' many of their wedding gifts into tonewood. The two violas I tried showed great strides beyond the one I had seen in New York, and I was happy to answer the couple's many questions. They also spent quite a bit of time examining and measuring my Amati.

When the heat wore on, we went on a short trip to several castelli in the hills surrounding the town, culminating in a visit to Stradivari's apartment in the walls of the Castell' Arquato. There was something very comforting in escaping the summer heat of town to find that Stradivari had done likewise.

Other facts gleaned as I prowled about: though it is established that Antonio was assisted by his sons Omobono and Francesco in his later years, it now seems that several of the last instruments may have been essentially built by Francesco while supervised by his father. And after all the articles and discussions on the 'secret' of Stradivari's varnish, it was startling (and refreshing) to hear that for many years Stradivari had his formula compounded and delivered by a local chemist/apothecary. When you can carve another 'Messie' or 'Batta', why slave over a hot stove?

Apropos stoves: it is still difficult to find a poor meal in Italy, I am glad to report, and months later I recall with pleasure the menu at Osteria del Melograno. My meal there was a consolation for not having gotten into the new Museo - as with many public-works projects (and not only in Italy, it is fair to add), the building schedule was subject to delay, and the opening was thus pushed back. Whereas I had a date with a quartet.


Subscribe to The Strad or download our digital edition as part of a 30-day free trial. To purchase back issues click here.