American String Quartet violist Daniel Avshalomov begins his blog tour of US festivals with song and dance – both courtesy of larger-than-life choreographer Mark Morris – in Ojai, California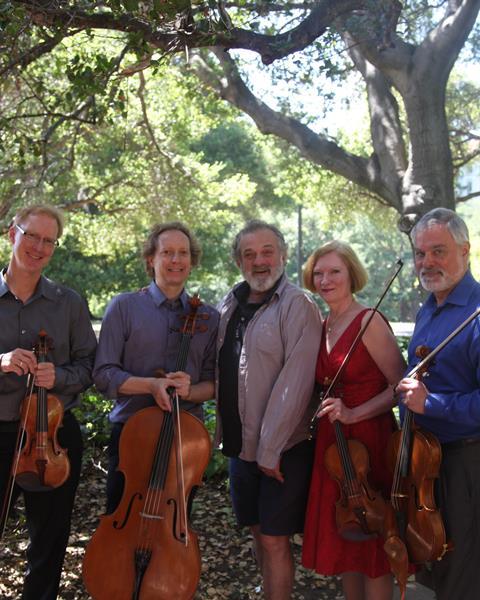 Our cellist Wolfram Koessel had been telling us stories about him for years, so when Mark Morris invited the American String Quartet (ASQ) to join him for performances at this summer's Ojai Music Festival, we thought we were prepared.
We knew he could be demanding – even imperious, by some reports – but his creativity and his deep knowledge of the chamber music repertoire were equally legendary. He had asked for several off-beat quartets – some that we knew, others that we learnt for the collaboration, and these we rehearsed in May before venturing to the wilds of Brooklyn for a rehearsal with the dancers.
The House that Morris Built was impressive, too: several stories of dance studios and rehearsal spaces, dancers of all ages flying hither and yon, classes, students, pros and, on the top floor, a big space where Mark was leading a class. Bellowing his commands to the dancers, he used no jargon – where another choreographer might have said 'Jetez!', Mark simply called out 'Jump into the air!' – and the sound of his voice made even us string players want to do just that.
He knew of the ASQ, of course, but made his way over to us for formal introductions, when we learnt what else he was famous for: great charm, and a strategic reserve of downright funny. He told us how excited he was to have us there, and we could see he meant it.
We then met the dancers (15 or 16 of them) who would be involved in the works we were to play, and rehearsal began. Mark had very particular ideas about sound, especially the extra-instrumental ones in Cowell's quartets, and of course the dancers had learnt the works at precise tempos, which we took care to internalise and reproduce. It was a challenge to keep our eyes on the page and on each other as we caught our first glimpse of the choreography unfolding. The dancers were so disciplined and yet somehow relaxed at the same time.
When the work was done, Mark offered his thanks to all (yelling 'Yay!' as he did so), and then spoke with us about what music he had heard recently – the man goes to as many concerts as the four of us do together. We exchanged a few stories about Cowell, Ives, Ruggles and Harrison, and then packed up, waving our goodbyes to all – we were to reconvene in California just days later.
Ojai itself is a quiet, scenic treasure an hour north of Los Angeles, and best of all it has hosted a first-rate music festival for 66 years. Unusually, the festival invites a new music director each summer, and the repertoire, extramusical events and overall flavour reflect that person's tastes. The staff, on the other hand, are a constant, and Ojai enjoys the most well-organised and accommodating group of professionals and volunteers we have ever come across – and we've been to scores of summer festivals. Everything was looked after, but with flexibility and a light touch so that all performers felt ready to do their best.
The venue is a mini-Hollywood Bowl affair with a dance-ready stage and discreet amplification of the instruments, allowing audiences to hear a hall acoustic although sitting outdoors. Every event was packed with alert, responsive and appreciative crowds, and a good time was indeed had by all each night or afternoon. (There were also early-morning fitness classes led by the dancers, as well as late-night parties where locals who dared were encouraged to dance with the pros and players and, memorably, Mark himself – needless to say the life of the party. Any party.)
We packed a million events into four days, and then we folded our tents and went up to Berkeley to repeat it all. The addition to Ojai North, the branch of the festival that takes place in the University of California's Berkeley campus, was the premiere of Mark's choreography of Stravinsky's The Rite of Spring, celebrating its 100th anniversary in an incarnation entitled Spring, Spring, Spring.
In this version, the orchestra was the jazz–crossover–classical trio The Bad Plus (who are monsters) and the dancers used every corner of the small stage to full effect. Mark had given a hilarious interview in which he said he'd had no idea that so many people had choreographed the piece before.
For the final Saturday of the festival, the ASQ played Ives's Second Quartet (not danced to – Mark just asked for it because he likes it), and then we were joined by singers, trumpet and organ for Ruggles's hymn Exaltation. But this exaltation had a Morris twist: Mark conducted (well) and exhorted the audience to practise, learn and (in the final chorus) sing along with the hymn. After their first run-through, Mark flatly told them: 'No. It has to be much louder, and I'll know if you're just moving your lips!' They rose to the challenge, and the ninth and final verse was a real rouser – with applause, cheers, laughter, and the sense (for some) of have attended a satisfying service.
The icing on the cake: the next day was the first of our summer break.
Subscribe to The Strad or download our digital edition as part of a 30-day free trial.