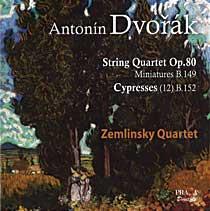 The Strad Issue: January 2011
Description: Benchmark accounts of the music of a key Viennese figure
Musicians: Zemlinsky Quartet
Composer: Zemlinsky
The Zemlinsky Quartet here uses its prize recording as winner of last year's Bordeaux competition to complete the survey of its namesake's quartets inaugurated for the same label in 2006. The Second Quartet is a single-movement titan of some 38 minutes' duration combining formal elements of sonata and suite and demonstrably modelled on the D minor First Quartet of Zemlinsky's son-in-law and one-time teacher Schoenberg. The Schoenberg connection is interesting since Zemlinsky seems to be going out of his way here to prove that there was, in 1914, still plenty to say in a chromatically advanced tonality, without needing to follow his pupil into out-and-out atonality.
As if to emphasise the intertwining connections among this fascinating generation of Viennese composers, the Fourth Quartet was written in 1936 as a memorial to Berg, who of course had quoted from Zemlinsky's own music in his Lyric Suite. This later work, one of Zemlinsky's last compositions, is tauter and more Classical than no.2, and is coupled here with a pair of unrelated musical movements that are all that survive of an earlier attempt at the work.
It would be hard to imagine more assured performances of this music than these. As by right, the Zemlinsky Quartet has the surging Expressionist style in its blood, and both in terms of ensemble and individual line the players project every nuance of this intricately crafted music. The recorded sound is unimpeachable.
Matthew Rye