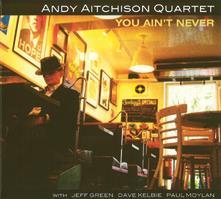 The Strad Issue: January 2012
Description: Blues-style music-making from a violin-led jazz quartet
Musicians: Andy Aitchison Quartet
Composer: Andy Aitchison et al
Although violinist Andy Aitchison has been around for a while, this is his first album as a leader, and from the off he puts a distinctive stamp on the music. His is a warm, nutty sound that favours the lower half of the instrument and suits an approach that is closer to Blues than the hot-jazz, Grappellian style that this line-up might suggest on paper. His first solo, for example, draws on earthy double-stops and probes small melodic ideas, while the improvisation in Blues in the Air is pleasingly uncomplicated and slow-building.
Small flaws take a little of the shine off. His rendition of Willow Weep for Me trips over itself a little, finding itself too often on the front rather than the back of the beat. But in showing a more fragile, querulous side in I Can't Get Started before returning to exuberance, Aitchison's music is nicely rounded. His band mates back this up – moments of elegantly mellow guitar and a deep, noble bass solo being the highlights, even if the bass could occasionally be louder in other exposed moments. This is an assured debut, but it would be good to hear Aitchison's original voice reflected in new material next time round.



James Crel