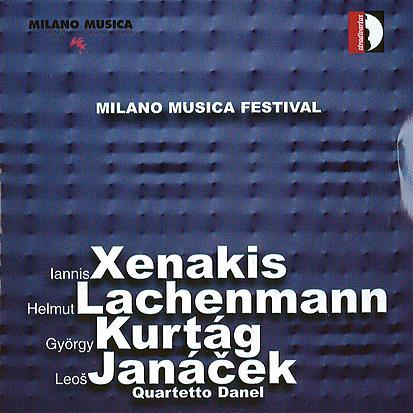 The Strad Issue: January 2010
Musicians: Danel Quartet
Composer: Xenakis, Lachenmann, Kurtág, Janácek
This laudable new release from the Brussels-based Danel Quartet features incisive performances of some pretty hardcore avant-garde repertoire in a live concert recording captured at the 2005 Milano Musica Festival. The two Xenakis works are particularly impressive. Tetras (1983) charts a slowly evolving course from glissando-based figurations to noises produced around the instruments' bodies and back again, and the player's passion for the piece is unmistakeable. Ergma (1994) is far more traditional in its use of conventional playing techniques, and the Danel players produce some remarkable sonorities in its dense, heavy, multiple-stopped chords. If the quartet seems a little aggressive and relentless in both works, that's only in keeping with the music's single-minded energy.
Helmut Lachenmann's Gran torso (1971–2) questions our most basic notions of what music for string quartet is, with its cacophony of grunts, scrapings and tappings, yet the players deliver a sensitive performance alive to its subtle nuances. But it's here that the disc's main failing is most apparent: in the work's lengthy central section of almost total silence, the live recording's extraneous noises – especially the players' creaking chairs, and frequent coughing from a strangely closely miked member of the audience – take centre stage, destroying the fragile sense of expectation that the work has built up. Even in the Xenakis pieces, the lack of resonance or warmth in the acoustic often makes the players' dramatic gestures sound rather dead. Sadly, the players' fierce commitment to this challenging repertoire is undermined by the quality of the recording.



David Kettle