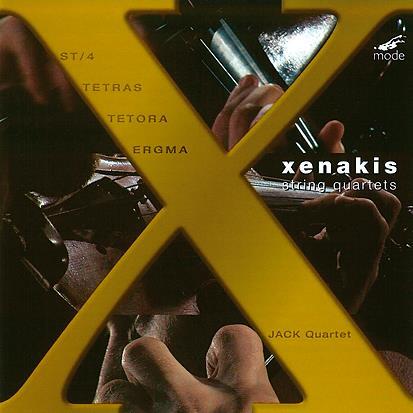 The Strad Issue: January 2009
Musicians: Jack Quartet
Composer: Xenakis
The prospect of hearing Xenakis's complete string quartets in one sitting might sound somewhat indigestible. But this is music of strange and passionate pleasure, and each work is compellingly, sense-assailingly different. The composer's genius as an engineer informed his analytical approach, and his influence on later generations was profound, particularly in his use of effects such as glissandos and non-vibrato playing as structural devices.
The disc opens with Tetras, written in 1983 and a web of constantly evolving textures and sounds, at times reminiscent of pipes in its high, vibrato-less clusters, at others like a limping machine with its broken ostinato patterns. More melodic fragments surface in the organum-like Tetora, composed seven years later.
An earlier work, written in 1956–62, is presented next: ST/4, the composer's transcription of ST/10 for larger ensemble. It is much more chaotic and spiky than the later pieces and its placing here rather than at the beginning of the disc is a shrewd move – there's the feeling of being eased into its wild, pointiliistic gestures, which alternately cling together or are teased out like taut elastic.
Ergma, from 1994 is imposing and searing, with the instruments double-stopping in blasts of tightly layered dissonance. Throughout the disc, the players of the Jack Quartet handle Xenakis's intricate and complex sound worlds with committed, delicate brilliance, and the whole is given a burnished brightness by the impeccable recorded sound.


Catherine Nelson