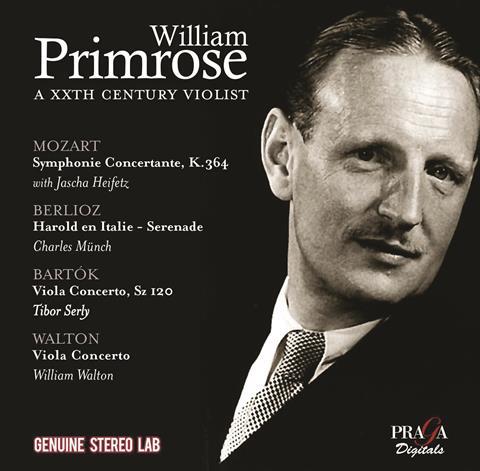 The Strad Issue: April 2016
Description: Historic recordings by a pioneer of the viola on record
Musicians: William Primrose (viola) Jascha Heifetz (violin) New Symphony Orchestra/Tibor Serly; Boston Symphony Orchestra/Charles Münch; RCA Victor Symphony Orchestra/Izler Solomon; Philharmonia Orchestra/William Walton
Composer: Bartók; Berlioz; Mozart; Walton
William Primrose was the first violist to build a significant discography with orchestra. Of his three 'official' Mozart sinfonie concertanti, the best is with Spalding, the slowest with Stern, the fastest this one with Heifetz. It feels pushed even before the soloists enter; and although everyone plays well in a mechanical sense, Mozartian grace is absent. They glide through the Andante in under nine minutes, whereas Kogan père et fils get it right, in ten.
The 1951 Bartók, historic in every way, still holds up well, although the New SO is slightly recessed in Kingsway Hall. Primrose produces great depth of tone and combines well with Serly in a fearsome finale. The sample from his final Harold is beautifully played by him and the BSO soloists.
Although the 1946 Walton from Abbey Road did not improve on Frederick Riddle's 1937 benchmark version, on its own terms it is fine. Primrose phrases stiffly at the start but quickly settles down, emitting glorious sounds. The central Vivo is really virtuosic, with bowing that is 'con molto preciso', as Walton demands. The finale is rhythmically perky, Primrose blooms in lyrical passages, his double-stopping is a model and Walton seems to enjoy conducting the fledgling Philharmonia.
Tully Potter