Juilliard School cellist Nathan Chan has shared his story in the hope of shining a light on the airline's policy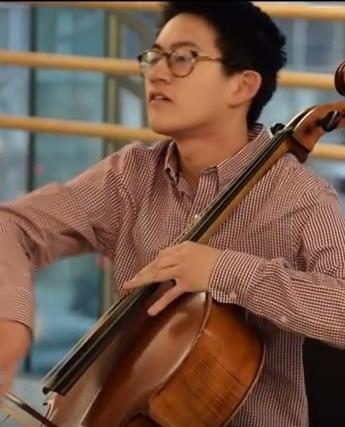 Following Norwegian Air's refusal to transport Helsinki Philharmonic violinist Ari Vilhjalmsson's $200,000 violin in the cabin – and the airline's subsequent promise to review its policy in the wake of public condemnation – Juilliard School cellist Nathan Chan (pictured) has published a blog on his website describing a similarly upsetting experience on West Jet.
The young musician booked a flight from Vancouver to New York via Toronto on American Airlines – however, the first leg of his journey was operated by WestJet. Although he had booked an extra seat for his cello for the entire journey the Canadian low cost carrier cited its rule of not allowing cellos on bard because they don't have 'specialized tie downs'.
Chan recalls:
'In what was a very stressful moment, I had to abandon my instrument and leave it with family in Vancouver and board the plane on my own. This was a 'sold out flight'. Hope the person on the standby list wasn't mad that there was an empty seat on the plane due to WestJet's maddening and confused little policy.
'Because of this, I've had to spend more money to have a 3rd party to fly the cello to me in New York. I still have not been issued a refund for the abandoned seat.
'Cellists. Never. Fly. Westjet.'