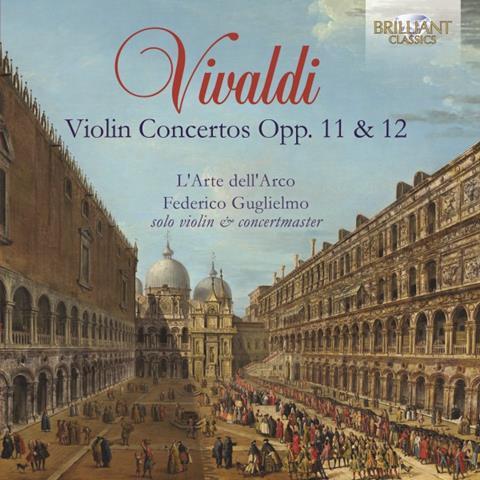 The Strad Issue: March 2017
Description: Guglielmo is muscular and eloquent in Vivaldi's final collections
Musicians: Pier Luigi Fabretti (oboe), L'Arte dell'Arco/Federico Guglielmo (violin)
Composer: Vivaldi
Catalogue number: BRILLIANT CLASSICS 95048 (2 CDs)
Federico Guiglielmo gives persuasive performances of the ten violin concertos in these two collections. He seems unusually relaxed when tackling the fast movements' challenging solo passagework, articulates phrases incisively and performs with spontaneity, breathtaking technical agility and plenty of theatre – witness the dramatic silences in the first movement of op.11 no.5, the slurred staccatos in the finale of op.11 no.2 and the ricochet bowings in the finales of op.11 nos.4 and 5. Alongside this muscularly virtuosic playing are some sublimely lyrical moments, notably in the Andante of op.11 no.2 and the pizzicato-accompanied Largo of op.12 no.6. Guglielmo consistently shapes the line with a simple eloquence that is disarming, combining a clear, cantabile melody with expressive tonal shading and florid extempore embellishment.
Guglielmo is generally well supported by L'Arte dell'Arco, whose personnel varies considerably by the opus. The buoyant strings play one-per-part and the continuo instrumentarium is tastefully varied, including some sensitive theorbo accompaniments by Diego Cantalupi in op.12. The bright, clean recording benefits from the bloom of a generous abbey acoustic but, for me, the harpsichord often jangles relentlessly and overprominently in the balance.
The two 'odd concertos out' of the dozen recorded are those for oboe op.11 no.6 (probably an earlier version of the G minor Violin Concerto op.9 no.3); and for string ensemble op.12 no.3. L'Arte dell'Arco's one-per-part string policy turns op.12 no.3 into an unusually transparent affair, but oboist Pier Luigi Fabretti gives a fluent account of the outer movements of op.11 no.6 and a graceful reading of its ostinato-based Largo.