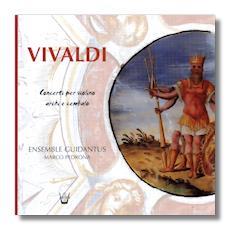 The Strad Issue: January 2007
Musicians: Marco Pedrona (violin) Ensemble Guidantus
Composer: Vivaldi
Marco Pedrona brings not only virtuosity but also warmth and musicality to these performances, sensitively accompanied by the five other members of Ensemble Guidantus. His playing is fresh and resilient in the opening movements, particularly in the striking cross-string pyrotechnics and high position-work of RV339, the brief solo arabesques of the concerto-grosso style RV381 and the brilliant ornamental passages and dynamic extremes of RV206. His spirited accounts of the finales display impressive flair and bravura, especially in the lively RV339, the energetic solo passages of RV275, and the intricate solo passagework of the dance-inspired RV377 and RV206. And he imbues the central slow movements with a sweet, unsentimental expressiveness and lyrical linear sense: just sample his realisations of the strikingly ornate melodies of RV339 and RV206 and the beautiful cantilena of RV377.
There are, however, moments of roughness in the outer movements of RV339, and Pedrona's intonation is not beyond reproach in the opening Allegro of RV227 and the finale of RV377. Furthermore, although Pedrona's playing is full of fantasy and dramatic contrast, he and his colleagues offer quirky conclusions to some cadenza passages (such as the first movements of RV227 and RV206 and the finale of RV206) and even to some movements (notably the opening Allegro of RV227 and the finale of RV381), leaving incredibly long gaps between their constituent notes or chords.
The recorded sound is a model of fidelity and there is much to tempt keen Vivaldians into making a purchase, not least the fact that no other recording of any of these concertos is currently available.
ROBIN STOWELL