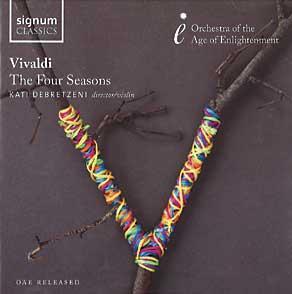 The Strad Issue: January 2014
Description: A performance of the concertos that can't compete with the best
Musicians: Kati Debretzeni (violin/director) Orchestra of the Age of Enlightenment
Composer: Vivaldi
This recording of the Four Seasons is essentially a spin-off from a collaborative project with Henri Oguike's dancers, combining period performance and contemporary choreography. Kati Debretzeni aims to highlight the descriptive aspects of these concertos, pinpointing specific events in the music (and accompanying sonnet) with precise timings in her booklet notes. However, her neat, proficient accounts are more reserved than those of many competitors and make only moderate impact.
Striking, though, are the dramatic thunderstorm in 'Spring' (first movement), the snap pizzicato rifle shots of the hunters in 'Autumn' (finale), the depiction of the inebriated in 'Autumn' (first movement) and much of Debretzeni's extempore ornamentation. Rather less effective are her use of silence to punctuate the birdsong in the first movement of 'Spring', her unusual bowing to depict teeth chattering in 'Winter' (first movement), the fierce cuckoo in 'Summer' (first movement) and the laboured finale of 'Autumn'.
The Orchestra of the Age of Enlightenment plays with intelligence and style and gives most fast movements an agreeable vitality. The recording has plenty of ambient fullness but remains bright and clear. However, its total playing time – just over 41 minutes – is ungenerous. A DVD may have offered a preferable record of the original, innovative dual-arts project.



ROBIN STOWELL