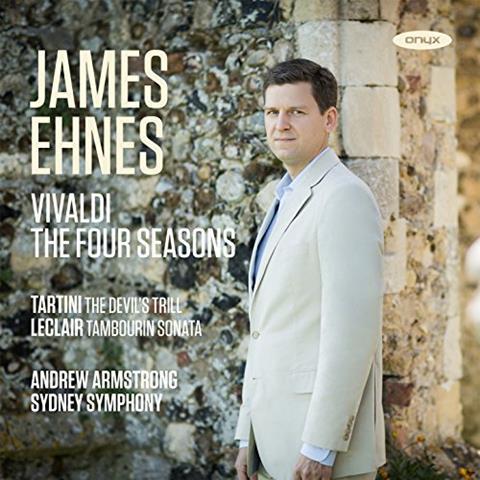 The Strad Issue: January 2016
Description: A calmer, cooler version of Vivaldi's seasonal concertos
Musicians: James Ehnes (violin/director) Andrew Armstrong (piano) Sydney Symphony Orchestra
Composer: Vivaldi, Tartini, Leclair
This might be the ideal antidote to Nigel Kennedy's new, rebooted Four Seasons (see above), with its general disregard, healthy or otherwise, for what's on the page. James Ehnes is much more the boy you'd take home to meet your family: his playing points to someone neatly turned out, talented, conscientious.
Without making the music sound too simple, there's a remarkable ease about the playing, and the tone can be beautifully sweet – as in the Largo of 'Spring' (in which the goatherd sleeps, according to the accompanying sonnets apparently penned by the composer) and even
in the fast opening of 'Winter'. The Presto finale of 'Summer', with exciting antiphonal falling scales in the strings and tart harpsichord continuo, is certainly fiery, as is the finale of 'Winter', whose hunt is robust and majestic. But the fervently programmatic nature of these concertos surely calls for a more imaginative use of colouristic and dramatic effect, which in general – and, on the surface, counter-intuitively – the period-instrument performers seem happier to indulge. Don't expect anything like the freedom of an Alessandrini or a Biondi.
Tartini's 'Devil's Trill' Sonata (arr. Kreisler) and Leclair's 'Tambourin' make incongruous couplings in terms both of genre and sound world, but they are immaculately played; Leclair's Sarabande is especially affecting in its muted transparency. For some, Kennedy will be clearly be too hot to handle, but on the other hand, despite Ehnes's brilliance, his relative lack of flair could be something you tire of easily.
EDWARD BHESANIA