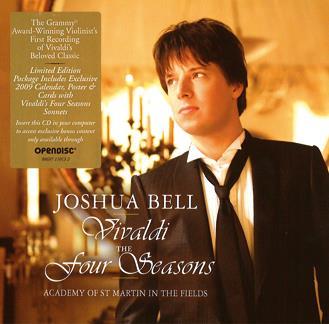 The Strad Issue: January 2008
Musicians: Joshua Bell (violin) John Constable (harpsichord) Academy of St Martinuin the Fields
Composer: Vivaldi, Tartini
It is perhaps a sign of the times that most modern violinists approach Baroque repertoire in ways influenced by 'historically informed' performance. This can give rise to a strange mixture of styles and intentions. Thus, these performances use steel strings with harpsichord continuo, and Joshua Bell's enterprising use of ornamentation alongside mainstream (if good) orchestral playing from the Academy of St Martinuin the Fields. Bell claims a number of influences upon his playing, including Norrington and Gardiner, but any attempt to evoke Baroque sonorities is limited by not only rather 'edgy' sound in some places but also some sharp intonation – a modern trait – as in the opening of the slow movement of the second concerto (L'estate) in the cello continuo part.
This said, Bell delivers perceptive and colourful performances, fully exploring the poignancy of the Vivaldi slow movements and offering genuine excitement where needed. His Tartini 'Devil's Trill' Sonata has a pleasing suppleness and he proves far from daunted by the prospect of adding ornamentation and cadenzas to the work, which is cleanly and intelligently played. Nonetheless (and putting aside my dislike of the ghastly packaging and gushing booklet notes) the result is a little artificial and even dull. The recording engineering is rather heavy-handed and the balance between quite a large orchestra, soloist and harpsichord is, at times, rather suspiciously good. For me, this immaculateness can detract from the earthy vibrancy of these works, although one cannot help but admire the standard of presentation in this recording.
David Milsom